How to get into the property market
Low mortgage rates are making repayments more affordable for prospective home buyers. But the challenge we're facing is how to save the mortgage deposit required for home loans when Australian property prices are rising faster than most people can stash money away.
If you've already been saving for a house, you probably have a lot of questions around how to get into the property market right now
One of the most common financial goals among MyBudget clients is saving for a house of their own. In fact, many MyBudget clients who are currently renting have a 'home loan deposit' savings stream in their budget.
Unfortunately, the pandemic derailed a lot of people's saving-for-a house goals. But for many others, the Covid cloud came with a silver lining. Social distancing measures meant they were spending less, which, in turn, pushed them closer to their financial goals.
Thousands of Australians also took advantage of the Federal Government's Covid-19 early superannuation release program, accessing up to $20,000 of their retirement savings. Others saved money they would normally have spent on holidays and could put it towards the deposit required for a home loan.
Meanwhile, Australia's lowest interest rates on record have helped to make mortgage repayments more affordable. In fact, in many places, buying is significantly cheaper than renting. See how the cost of buying versus renting compares in your area.
The outcome of this perfect storm is the situation we have now: buyers out in force and an under-supply of properties, leaving many people confused about how to get into the property market and asking "Is buying a house a good idea right now?"
House prices still rising means people's mortgage deposit keeps shrinking
Home loan deposit in the bank—check! Loan affordability—check! In normal times, these are the main hurdles to getting a home loan. But now there is a third one. Prospective buyers who can't secure a property are having their deposits eroded by quickly rising Australian property prices.
In times when interest rates were higher, prospective buyers could be consoled by the fact that their mortgage deposit was earning interest at a rate equal to Australian property price rises. But in this hot housing market, buyers who miss out are forced to keep topping up their savings to maintain their home loan deposit ratio.
The median house price in Sydney, for example, has gone up by more than $200,000 in just the last six months. That's nearly $1,100 a day or a gobsmacking $45 per hour. This means that, compared to December, a prospective buyer in the market for a median priced Sydney house would need to have saved an extra $40,000 to maintain a 20% deposit today. That's $1,670 a week.
Keeping up with the market during a property boom
If only Sydney were an outlier. According to Domain, all but one Australian capital city is experiencing strong house price growth. In the June 2021 quarter, Canberra (+10.4%), Darwin (+8.9%) and Sydney (+8.2%) exceeded the national average (+5.8%), while the other capitals (notwithstanding Perth at just +1%) were not far behind: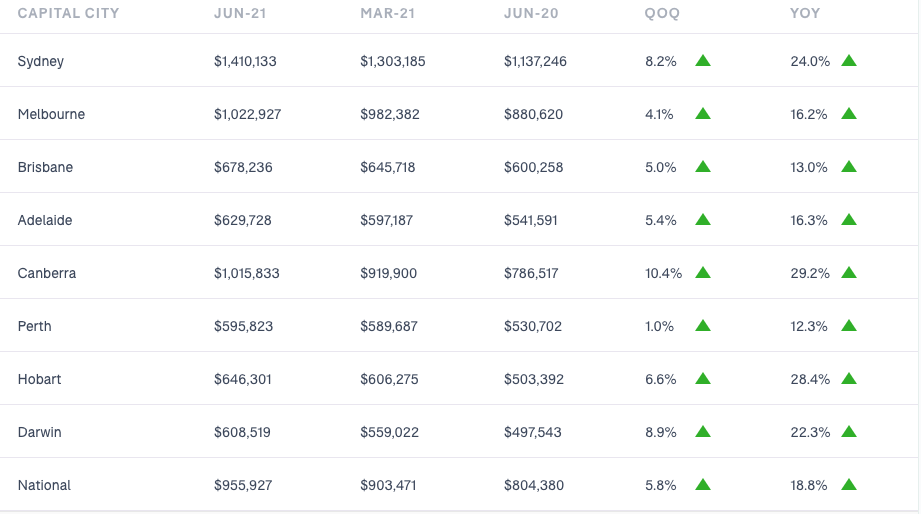 Based on the three-month median price changes above, here's how much extra you would need to save every week to maintain a 20% deposit:
Sydney – $1,782
Melbourne – $676
Brisbane – $542
Adelaide – $542
Canberra – $1,599
Perth – $102
Hobart – $667
Darwin – $825
Understandably, traditional saving advice (create a budget, pay down debt, slash your bills, automate your savings) is great for people in the saving for a house phase. But not particularly helpful for people who have already done most of the hard yards.
What these savers need are practical strategies to help protect the value of their nest egg from going backwards relative to house prices.
Saving for a house? Here are steps that may help you
I can understand why people are starting to feel desperate about how to get into the property market. FOMO creeps in and you start to get twitchy. It gets tempting to exceed your price ceiling or to buy a property that doesn't suit you. It's going to be important to stay focused and on budget.
In that context, here are some ideas I hope might help:
Talk with a mortgage broker
If you haven't done so already, find a mortgage broker to help guide your home buying journey. Firstly, mortgage brokers are legally obliged to provide information and advice in your best interest. Secondly, they have their finger on the pulse when it comes to lending regulations, loan products and home buyer schemes.
What does a mortgage broker do? A mortgage broker may be able to help you:
Focus your home ownership goals by helping you understand the requirements lenders look for and what's affordable and achievable.
Create a realistic home buying budget that includes stamp duty, legal fees, home inspection, and your other likely expenses.
Navigate the various home buyer schemes and grants available to you. Spots in some of these programs are limited and a broker may be able to help you secure one.
Do property research using their analysis tools and knowledge. MyBudget Loans can help you with property valuation reports and comparable sales.
You can talk with a MyBudget Loans specialist for free at any time: www.mybudget.com.au/loans
Talk with buyer's agents
If you've been out-negotiated more than once, find yourself attending auctions that skyrocket beyond your limit, you're short on time, or new to an area, the investment in a buyer's advocate might be worth thinking about. At least you could pick their brains.
A buyer's agent or advocate is a real estate agent who helps buyers find and negotiate property purchases. According to CHOICE, a buyer's agent will often charge around 2% of the purchase price. But some advocates work on a flat-fee basis.
Live your life
free
from money worries
Start today with a FREE no obligation appointment
Wondering, "Should I use a buyer's agent?" Read more about the pros and cons of using a buyer's agent here.
Think outside the box
Think creatively about what the best way to buy a house is for you. This ABC news story showcases an initiative that allows single women to pool their savings to build communal housing. It's a good example of solving the problem of housing affordability with a new approach.
Are there any "out of the box" strategies you could employ to boost your mortgage deposit? Here are some examples:
Think about whether to buy an investment property or home first. If buying a home to live in is out of reach at the moment, how about an investment property? Low interest rates could mean more opportunity to invest in properties that deliver positive income for their owners. One of the big benefits of buying an investment property is that it can help to take the emotion out of house hunting. A MyBudget Loans broker would be pleased to help you explore your investment loan options.
Look at the pros and cons of buying an apartment vs house. The house market is incredibly competitive due to short supply, while in some areas, apartments are in oversupply. This is why unit prices are falling in many capital cities.
Covid has shown us that working from home is possible in many jobs. Could buying a house in a more affordable regional area be on the cards?
Dual occupancy properties are an opportunity to pool your resources with a friend or family member, such as aging parents, or to move into one dwelling and rent out the other.
The Australian Financial Review reports that parents are increasingly bringing forward their children's inheritance to help them buy their own property.
Could you look at buying a house with your parents? Instead of giving their children money, some parents are becoming co-purchasers to help their kids get into the property market.
Or, how about buying a house with a friend? Shared ownership can work for some people!
For people who can't pull together a home loan deposit on their own but would like to get into property investing, a property trust is a syndicate of people who become 'unit holders' in a piece of real estate. Here is an example of an innovative property trust program helping women invest in property.
Think outside the bank
With bank term deposit rates at less than 1% per annum, it's understandable that people are looking for other places to keep their savings. The suitability of these products will depend, however, on your individual circumstances.
For example, the First Home Super Saver Scheme lets eligible first home buyers save a deposit through their super, which has tax advantages. You can make up to $15,000 of voluntary super contributions per financial year that can be withdrawn to buy your first home. The total allowable balance is currently $30,000 over two years. From July 2022, this rises to $50,000.
Financial planners have traditionally been expensive, but robo-advisors are making tailored advice more affordable and accessible. Investopedia explains that robo-advisors are digital platforms that provide automated, algorithm-driven financial planning services with little to no human involvement.
There are a number of robo-advisor services available in Australia. The costs start from around $6.00 a month and generally don't require a large investment. This means you can start small and learn about the process as you go. As with any investment, robo-investing has pros and cons that you should consider carefully.
Lean into learning
One of the keys to making quality decisions is to access quality information. This is why leaning into learning is so important. Here are some free resources house hunters may find helpful:
Most of all, focus on why
Rather than get caught up in the real estate rush, pause and consider why you want to enter the property market. Is it because you want a home to live in at any cost? Or does property ownership also need to make good financial sense for you?
I invested in my first property when I was 20 years old. Why? Because it was the only type of investment I knew about! And it served me well. Because of that property, I was able to borrow against the equity to pay for the development of MyBudget's first software.
There are many benefits of an investment property, but property is not the only way to build wealth. Over the years, I have educated myself on other types of investments, including shares, index funds and Exchange Traded Funds.
I was hungry to learn about money and did whatever I could to educate myself, from reading books, to watching videos, going to seminars and, these days, listening to podcasts. We live in an amazing age where information is literally at our fingertips.
That's why I hope that the biggest takeaway from this article is not just ideas of how to get into the property market but to lean into learning. Create a relationship with a mortgage broker who you like and trust, talk to real estate professionals, dive into free property data and other quality resources, and be hungry to explore all of your options!
Call 1300 300 922 or get started today
This article has been prepared for information purposes only, and does not constitute personal financial advice. The information has been prepared without taking into account your personal objectives, financial situation or needs. Before acting on any information in this article you should consider the appropriateness of the information having regard to your objectives, financial situation and needs.