Meal planning on a budget: our comprehensive guide
With the rising costs of living and grocery prices on the rise, making your dollar go further at the grocery store is more important than ever. Stepping into the store prepared by meal planning ahead of time can help you to save time and money.
By strategically planning your meals in advance, you can reduce the amount of money on food you spend, while also also reducing food waste and alleviating the planning process. Our comprehensive guide to meal planning on a budget will provide you with the tips and strategies you need to eat well without breaking the bank.
Meal planning doesn't have to be complicated or time-consuming. In fact, it can be an enjoyable and empowering process that allows you to take control of your food choices and finances. With the right approach, you can create delicious and nutritious meals while sticking to your budget. In this article, MyBudget spoke to Queensland nutritional therapist Amber Sagal and she spilled the beans (pun intended) on health-enhancing, weekly meal plans on a budget.
How to create a budget meal plan
Meal planning on a budget is a game-changer, regardless of your dietary preferences or restrictions. Whether you're vegetarian, vegan, gluten-free, or simply looking to incorporate more whole foods into your diet, you can say goodbye to last-minute takeout orders and impulse purchases at the grocery store.
With a little bit of planning and creativity, you can enjoy delicious home-cooked meals that are not only good for your health but also your wallet.
Prioritise whole grains, pulses and beans when batch cooking
By prioritising whole grains, pulses and beans, you can make your batch cooking go much further, providing you with less trips to the shops and a more streamlined shopping list.
"Animal sources of protein tend to be more expensive, whereas beans, rice and oats are easy to store, and they're nutritious and cheap," says Amber, "Lentils, chickpeas, butter and black beans come in cans and the dried versions are even cheaper. When meal planning on a budget, you can substitute lentils for meat in bonus recipes such as pasta sauce or burger patties and a lot of people wouldn't pick the difference. Soak and cook dried beans and then freeze them in batches."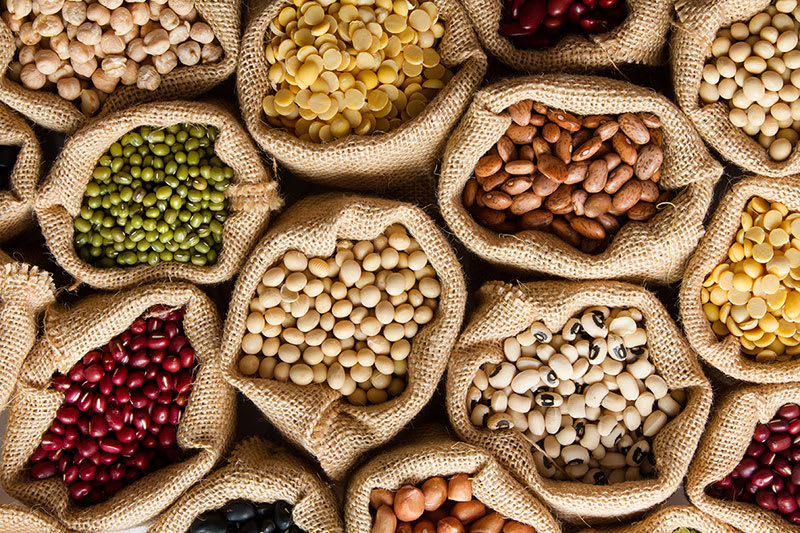 Invest in basic spices
A healthy meal plan on a budget is made so much tastier with spices. Adding in some rosemary or paprika to a batch recipe's ingredient list can give a balanced meal that zing you've been looking for, and this investment can keep your average cost at the supermarkets down to a minimum.
Whether you're planning for a 7-day meal plan or a monthly meal plan, you can rest assured your week of meals will all taste delicious with the right spices.
"Mexican spices, like cumin and paprika are great, as are Italian spices, like thyme and oregano. Curry powder is a good staple for your pantry too," Amber says. "An easy, cheap, healthy dinner would be a curry made from curry powder and a tin of coconut cream, with chickpeas, your choice of frozen veggies and seasoned with salt and pepper. Canned coconut cream is a favourite of mine for weekly meal plans on a budget because you can add it to curries, smoothies, rice and lots of other dishes."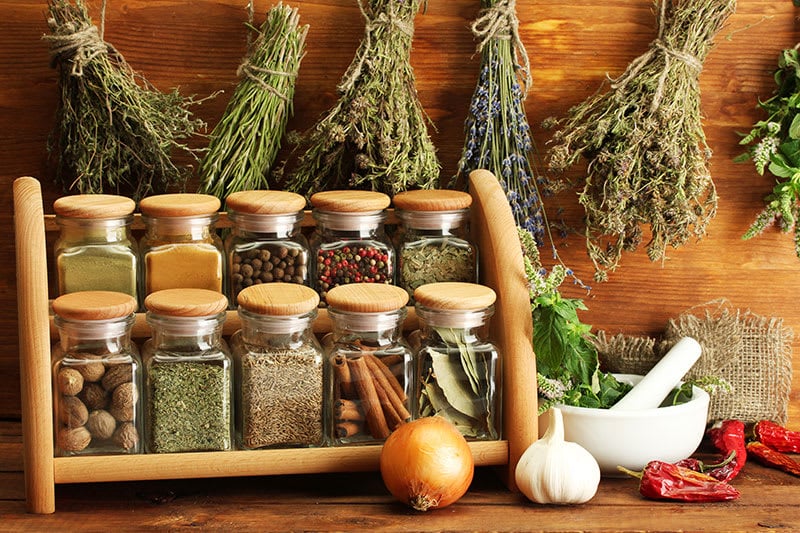 Think Buddha bowls
Buddha bowls are a fantastic budget recipe that'll make your cooking go a long way. Any perfect recipe book with a keen eye for healthy foods should have a good Buddha bowl in it, and the bowl should fit right in with your budget family meal plan.
"Buddha bowls are a really easy way to combine different foods into a meal," says Amber. "You take base affordable ingredients, like rice, potatoes or beans, and then you add various veggies, condiments or protein, like tinned tuna or a boiled egg. A Mexi Buddha bowl could have black beans and rice seasoned with spices as the base, and then whatever frozen or fresh veggies you have available."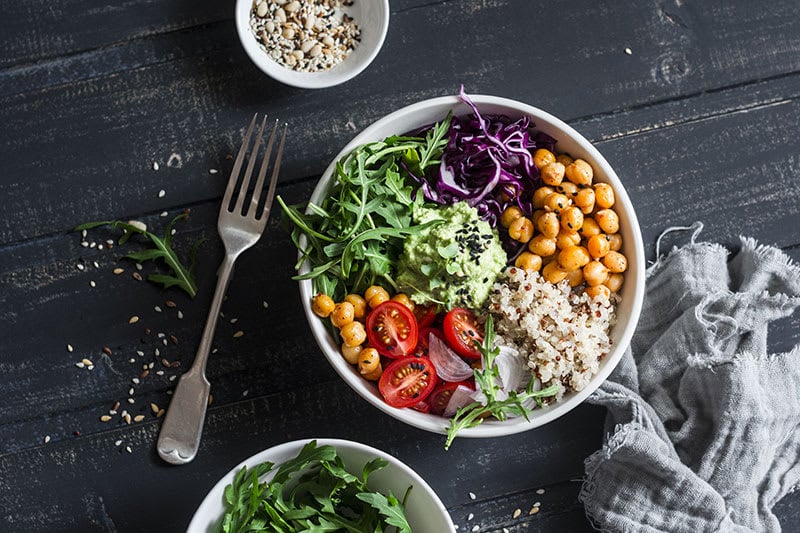 Reduce animal protein
Meal planning on a budget is easier if you incorporate more veggies and less protein foods. Consider scrapping some ground beef and expensive cuts of meat off of your grocery list and look at other protein alternatives that can go further, like making a lentil soup recipe with lentils or even including some peanut butter in snacks.
And when you are cooking with meat, consider how you can buy meat for more than one meal. If you're itching for a non-vegetarian meal, you can make a beautiful Sunday roast and then use the leftover chicken on a homemade pizza on Monday. This way, you can turn expensive meals into cheap meals, such as using a couple chicken breasts to make a delicious chicken salad, and the family will thank you for the variety.
Amber agrees by saying: "Meat is an important source of vitamin B12 but you don't need to eat meat every day or in large quantities to get the recommended allowance. Once a week is fine or using meat as the side dish instead of the main event is a great way to save money and make your grocery budget go further. A good source of B12 for vegetarians is nutritional yeast."
Buy components, not the processed packaged version
Budget meal planning doesn't have to be a big commitment. Try starting small by choosing the components over their packaged counterparts. A staple ingredient can be turned into a special ingredient with enough creativity.
While pre-packed versions may make for convenience meals, that convenience comes at a premium price. By doing some planning and dedicating yourself to some meal prep cooking, you can make your own simple meals that are sure to delight.
Live your life
free
from money worries
Create your own budget plan designed to help you live the life you want
"Breakfast cereals are expensive and usually not very nutritious", says Amber. "When meal planning on a budget, it's better to buy oats and make porridge. To make sure you're getting healthy omega oils and add one tablespoon of chia or flax seeds. They're a bit more expensive but you're only using one tablespoon. Dressings are another example. Olive oil mixed with vinegar and a pinch of sugar, salt and pepper is healthier and a lot cheaper than packaged dressings."
Stock up on batch recipe essentials
By purchasing simple ingredients in bulk at a discount during your grocery shopping outings, you can find ways to make a variety of batch recipes with cheaper alternatives. Some of the cheapest meals can be the most delicious meal ideas, and you can say goodbye to those bland frozen meals forever. Be sure to add these to your next shopping grocery cart:
Dried or canned beans (chickpeas, lentils, black beans, butter beans, cannellini etc.)
Rice (any type, but brown rice is a good prebiotic for gut health)
Potatoes
Rolled oats
Spices (cumin, paprika, thyme, oregano, curry powder)
Canned coconut cream (or milk)
Canned tomatoes
Canned tuna (consume in moderation)
Fresh or frozen veggies
Fresh or frozen fruit
Eggs
Meat (in small quantities)
How can MyBudget help?
MyBudget knows how to do meal planning on a budget! We've helped over 130,000 Australians live their lives free from money worries and if you ask one of our friendly staff members, I'm sure they'll share some of their favourite yummy recipes with some inexpensive options that'll fit right in your grocery cart.
If you need help with budgeting, MyBudget's caring budgeting specialists can show you how to save on food and help you identify the gaps in your budget.
Call 1300 300 922 or get started today
This article has been prepared for information purposes only, and does not constitute personal financial advice. The information has been prepared without taking into account your personal objectives, financial situation or needs. Before acting on any information in this article you should consider the appropriateness of the information having regard to your objectives, financial situation and needs.