Debt management

strategies that

work.
We offer debt management strategies that work.

Australian households are stretched to the limits and debt is at all time highs. The good news is that help is available.

MyBudget has helped almost 108,000 people get on top of their finances. There are many ways to get out of debt and we can help you consider your options.

We have a team of dedicated negotiators who specialise in debt management. We can work with you and your creditors to develop a win-win debt management plan. Last year, we successfully renegotiated over 235,000 payments to creditors for our clients. Most importantly, we did this on terms that suited our clients.

It's never too late to get back on track. Find out how we could help you with a free debt management consultation.
Please call us on 1300 300 922
---
or
---
We can call you
Call us on 1300 300 922 or fill out the form below and we'll call when it suits you.

1

Call 1300 300 922 or Enquire Online
---

One of our friendly consultants will talk with you, confidentially, about your situation, answer your questions and book a free budget consultation for you.
Book your free consultation

Our personal budgeting specialists are highly-trained. They have a tertiary qualification in finance, such as a Certificate IV or Diploma of Finance and Mortgage Broking. They are also professionally trained in budgeting and debt management.

More importantly, they genuinely care.

They'll gather detailed information about your finances and create a customised budget plan to start achieving your goals.
3

Receive a customised budget plan - just for you
---
By the end of the consultation, you'll have deep insight into your financial situation, as well as a tailored budget that shows you how to achieve your goals.
There's no obligation to become a client. Your customised budget plan is yours to keep.
What are the benefits for a MyBudget client?
---
Total visibility of your finances at your fingertips 24/7 via our client website
A dynamic plan that works to pay your bills and loan repayments & pay off your debt
We do the legwork so you don't have to worry - your payments and obligations to creditors are prioritised, scheduled and paid on your behalf, using your income.
Support and guidance from our caring experts.
Much, much more.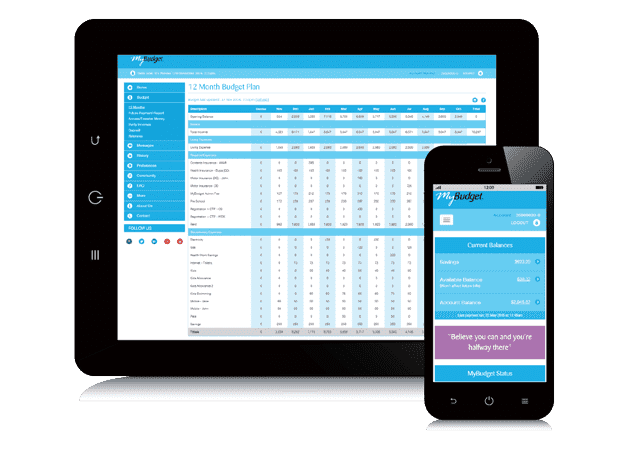 You don't need to struggle on your own. We're here to help.
The signs of needing debt help include:
You constantly worry about money
You feel like you are unable to save
You fight with loved ones about money
You can't pay off your credit card in full at the end of each month
You have loans you can't afford
You have overdue accounts and late bills
You often depend on friends and family for financial support
You regularly overdraw your account
You max out your credit card
The good news is that through budgeting most people can pay their way out of debt without taking on new loans.

MyBudget strives to find a solution for every individual. We look at your situation and develop a customised, flexible budget plan that's specially designed to address your needs and goals.
We also understand that the hardest part about budgeting is sticking to it. That's why we offer to do the legwork for you. We can manage your budget, pay your bills on your behalf, create a savings plan and communicate with your creditors, if necessary.

Paul & Gemma, MyBudget clients
"We spent everything we earned and it just meant that when those unforeseen bills came in we were stuck and it meant credit cards, and it meant consolidating credit card on numerous occasions...MyBudget's helping us achieve stability - something we've been trying to get for a long time and we've never been able to do it on our own."
Paul & Gemma, MyBudget clients
"Before MyBudget, the debt was really bad. It had gotten to a point where I'd spent too much money on travelling and going out and having a great life and living a lifestyle that really I couldn't live up to...I've been able to pay off about $25,000 over the last 24 months. It's been fantastic and that's something I could never have achieved on my own."
"So [after joining MyBudget] both of my credit cards are completely gone. My loan is completely gone, paid off two and a half years earlier than what it was scheduled to by being able to afford to make extra repayments and cutting down the interest... sometimes I wish I had called them [MyBudget] three years earlier than what I did. I would definitely recommend their services, it has done wonders for me."