Don't let a black mark

on your credit file
darken your financial outlook.
Are you worried about a default or negative listing on your credit file?
We can help with a customised strategy that puts you back in control of your finances and breathing easier.

A default listing will appear on your credit file for up to five years, but you don't have to wait that long to start rebuilding your credit reputation. With the right strategy in place, you can begin developing a good credit score as you keep working towards your financial goals.
Our approach is proven to help people get back on track while they repay defaults and develop better credit ratings. First, we analyse your financial situation in detail, then we design a customised budget plan that builds a solid foundation for good credit, one payment at a time. We can even talk with your creditors and pay your bills on your behalf. Book your free, no obligation budget consultation to find out more.
So breathe. Find out how we could help you today.

Please call us on 08 8214 4256
---
or
---
We can call you
Fill out the form below and we'll call when it suits you.

1

Call 1300 300 922 or Enquire Online
---

One of our friendly consultants will talk with you, confidentially, about your situation, answer your questions and book a free budget consultation for you at one of our 11 offices nationwide or over the phone.
Book your free consultation

During the consultation, you'll meet one of our highly-trained, personal budgeting specialists. They have a tertiary qualification in finance, such as a Certificate IV or Diploma of Finance and Mortgage Broking. They are also professionally trained in budgeting and debt management.

More importantly, they genuinely care.





They'll gather detailed information about your finances and create a customised budget plan to start achieving your goals.
3

Receive a customised budget plan - just for you
---
By the end of the consultation, you'll have deep insight into your financial situation, as well as a tailored budget that shows you how to achieve your goals.
There's no obligation to become a client. Your customised budget plan is yours to keep.
What are the benefits for a MyBudget client?
---
Total visibility of your finances at your fingertips 24/7 via our client website

A dynamic plan that works to pay your bills and loan repayments & pay off your debt

We do the legwork so you don't have to worry - your payments and obligations to creditors are prioritised, scheduled and paid on your behalf, using your income.

Support and guidance from our caring experts.

Much, much more.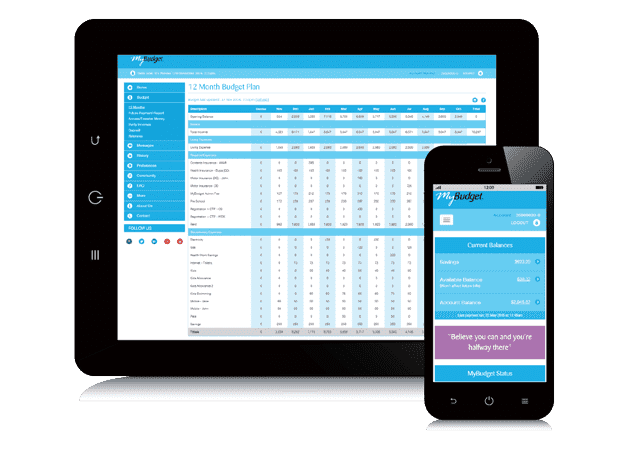 Your credit score can influence your access to credit, as well as the range of products, terms and rates available to you. Generally speaking, higher credit scores are associated with lower credit risk for the lender, which means cheaper rates and more product choice for you, the borrower. At worst case, a low credit score may result in you having a credit application refused or stop you from achieving your financial goals.
How can credit be improved? Firstly, you can check your credit file to see if anything is incorrect, however in general the best way to improve your credit is time and avoiding further debt and defaults. MyBudget can assist you to stay up to date, make payments on time and pay off any debts you may have. We are able to assist you to avoid debts in the future and subsequently prevent these going on your credit file. This is the basis for building a future of good credit.
How do we help keep you on track? MyBudget can help by designing a customised budget plan just for you—a fully personalised strategy that begins to build a strong basis for your credit reputation with each and every on-time payment you make. Worried that your bills are too far behind? Struggling to repay defaults? That's ok. We have extensive experience dealing with creditors and lenders. We can often negotiate more affordable payment arrangements including, for example, a break from payments, reduced payments for a period of time, or the capitalisation of arrears to the end of the loan term.

We understand. That's why our commitment is to design a customised, sustainable strategy that gives you a sense of immediate relief, as well as a blueprint for your long-term financial fitness. The budgets people make for themselves, on the other hand, are usually based on a calendar month or pay cycle. Unfortunately, that approach is generally too short-term to test the true workability of a budget.
The budgets we design are detailed, long-range plans that thoroughly analyse your financial commitments over a 12-month period. It will reveal the extent of your situation and opportunities to get your budget balancing again. By the end of your free budget consultation, you will understand what can be achieved with your income and what actions may need to be taken.
Our personal budgeting specialists are experts at designing strategies that get people back on their feet quicker. More importantly, we genuinely care about you and your situation. In a relaxed, caring and confidential setting, we can help you explore your options. We're here to help.

Financial stress can impact all areas of your life by putting pressure on relationships and affecting work performance—it can even have physical effects, such as insomnia and anxiety. No wonder it's hard to make clear decisions and stay on top of things. That's why we're here: so you don't have to do it on your own. We also recognise that the hardest part about budgeting is sticking to it, which is why we offer to do the leg work for you.
Our budget management services include bill paying, disbursing money for living expenses, savings and long-range expenses, budget adjustments, and a caring customer service team that provides attentive, personalised support. A reminder that we also have a dedicated negotiations team that can take the pressure off you by talking with your creditors and potentially arranging more affordable payment terms on your behalf.
When it comes to control over your finances, you have online access to your budget 24/7, as well as a set of powerful tools that take the guesswork out of managing your money. You are able to track every last cent of your income and expenditure and your 12-month forecast will show exactly how you're tracking. You gain control while we do the hard work.