Bankruptcy
is not always the

solution.

Bankruptcy or insolvency isn't always the solution. We understand the implications
and often see these
options as a last resort.
We take the time to explore your options.

A lot of the people who approach us are so deep in debt they can see no way out except personal insolvency or bankruptcy. They're usually so stressed and worried they can't imagine any other options. All they know is that they want the worry to end. They want to stop being harassed by debt collectors, they want to sleep at night and they want to start enjoying life again - that's where we can help.
At MyBudget, we recognise that bankruptcy and formal debt agreements do have their place for some people. We are a licensed insolvency administrator and we can assist those who would benefit. However, we also understand the implications of going bankrupt and therefore see it as a last resort. The consequences—including up to five years with little access to reputable sources of credit—should not be taken lightly which is why we try to avoid it wherever possible.

We've helped over 108,000 people. Find out how we could help you.


Please call us on 1300 300 922
---
or
---
We can call you
Call us on 1300 300 922 or fill out the form below and we'll call when it suits you.

1

Call 1300 300 922 or Enquire Online
---

One of our friendly consultants will talk with you, confidentially, about your situation, answer your questions and book a free budget consultation for you.
Book your free consultation

Our personal budgeting specialists are highly-trained. They have a tertiary qualification in finance, such as a Certificate IV or Diploma of Finance and Mortgage Broking. They are also professionally trained in budgeting and debt management.

More importantly, they genuinely care.

They'll gather detailed information about your finances and create a customised budget plan to start achieving your goals.
3

Receive a customised budget plan - just for you
---
By the end of the consultation, you'll have deep insight into your financial situation, as well as a tailored budget that shows you how to achieve your goals.
There's no obligation to become a client. Your customised budget plan is yours to keep.
What are the benefits for a MyBudget client?
---
Total visibility of your finances at your fingertips 24/7 via our client website
A dynamic plan that works to pay your bills and loan repayments & pay off your debt
We do the legwork so you don't have to worry - your payments and obligations to creditors are prioritised, scheduled and paid on your behalf, using your income.
Support and guidance from our caring experts.
Much, much more.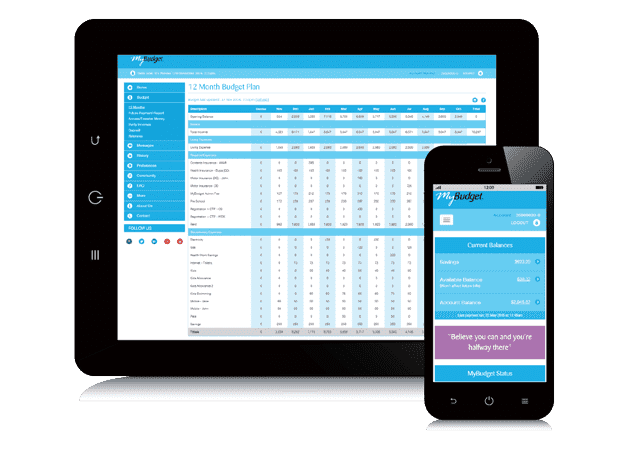 Gemma & Paul, MyBudget clients
"I always thought that I could handle the money well enough, and unfortunately even I had fallen short. We had just spent, not more than we earned but we spent everything we earned and it just meant that when those unforeseen bills came in we were stuck and it meant credit cards and it meant consolidating credit card on numerous occasions, more than once and it just got to the stage where I said we can't do this anymore and Gemma had made the appointment and so we went and it's been the best thing we've ever done."
Gemma & Paul, MyBudget clients
Grant & Alisha, MyBudget clients
"I felt my only other option was to declare bankrupt and to try and get rid of the debts that I had against myself...I took every bit of information that I could possibly imagine to do with our finances and we sorted everything out within a couple of hours and I walked out of there feeling extremely comfortable."
Grant & Alisha, MyBudget clients
Debbie & Alan, MyBudget clients
"What I discovered is that the other companies I'd seen advertising debt consolidation, once you delved in a little bit deeper and made the phone call it was then, and only then, that we discovered it was what was known as a Part Nine agreement and that was not quite what we were looking for at that point in time because with some more research we found that it was a form of bankruptcy anyway. And that was always going to be our absolute last resort."
Debbie & Alan, MyBudget clients