The cost of living crisis in Australia: how to make ends meet
The increase in interest rates and rise in inflation means that Australia's cost of living has gone up noticeably, however, these are not the only things to be blamed for life becoming more expensive. The pandemic created supply-chain bottlenecks, pushing the prices of raw materials up as demand remained the same and supply dropped off. This means that things like wood, wheat, cotton, plastic, metals, oil and gas, were all less available with the same global demand. As most things are produced from raw materials, the flow-on costs are felt by most households.
Why has the Australian cost of living increased so much?
The one thing that impacts every economy's cost of living is the price of fuel. The western world is currently refusing to buy Russian petrol (or oil and gas), in response to the Ukraine war crisis. This means that a significant portion of the world's petrol supply is now inaccessible, driving prices up as demand remains the same. As petrol prices go up, mostly everything else we need to live follows suit.
The 22.1 cents per litre fuel excise was introduced late September 2022 to provide temporary relief and there are no signs of this being extended. For the average driver, it will eventually cost about $15 more to fill up a 60-litre tank with petrol. For people who fill up weekly, that equals an extra $65 expense every month. Consider downloading a fuel app to find the best petrol price in your area, use coupons to take a bit off per litre and make sure you have a full tank of fuel before the increase hits!
Natural disasters, namely floods in Queensland, saw lettuce reach hysterical prices, just like bananas did in 2011. Any type of crisis can result in an increase in the cost of living and cause inflation to exceed the natural rate of 1-3%, which is necessary for an economy to grow (think if inflation was negative, there would be less money in the economy, not an increase in your savings' value). Inflation will always be increasing, but when it increases too much it becomes tough to make ends meet. That's why it is often referred to as the invisible tax.
In June 2022, the Consumer Price Index rose by 6.1%, which is calculated by taking the average price of a group of goods and reviewing how much more expensive they have become. The Australian Bureau of Statistics does this every quarter, which indicates how much more expensive living has become. Mortgage rates are included in this calculation, along with everyday expenses, however, it doesn't take into account how much more expensive pre-existing housing has become, which is where a lot of Australians are feeling the pressure.
Soaring living costs have seen Australians already deplete their savings, alongside rising interest rates.
Live your life
free
from money worries
Start today with a FREE no obligation appointment
Will there be another interest rate rise?
Whatever your financial situation may be, it is important to prepare for any price hikes or for another interest rate rise. Traditionally, interest rates are increased to combat inflation. In fact, that is the key purpose of increasing interest rates, but it isn't always that simple. Interest rates were low during the pandemic to encourage business activity, which means they will be brought back to their pre-pandemic rate at the very least. It is important to ensure that your debt is manageable when this does become the case, or if they increase to higher than pre-pandemic rates. Historically, Australia has witnessed major changes in prices and interest rates after economic crises. The global recession in the 1980s saw mortgage rates reach over 17% because of wild inflation rates from the global oil crisis.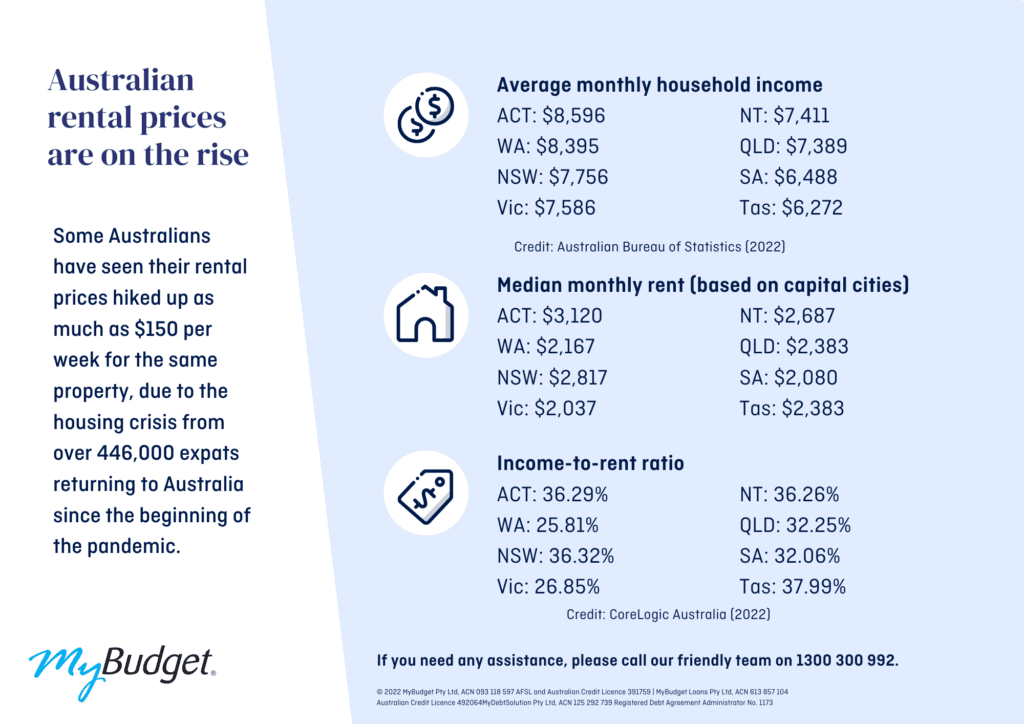 The RBA has warned that CPI could reach over 7% by the end of the year, so prioritising your savings can help you make ends meet. Use our savings guide to supercharge your savings and get prepared for any upcoming economic changes.
How can I make ends meet and avoid depleting my savings?
An increase in the cost of living is not something to panic about, but is a necessary time to redirect your attention to your budget and any outstanding debt. Making every dollar count is a great way to ensure that you are controlling the controllables. What might seem like insignificant every day changes, like meal planning, can be a massively effective way to create positive change in your financial position. You can use our free guide to meal planning on a budget to combat the cost of rising grocery prices. Eating out can eat away at your savings and with the price of a standard flat-white is set to soar, cutting back on spending will prove beneficial in the long run.
Take a closer look at your finances using our free budgeting template. Unsure how to build your budget effectively? Check out our complete guide to budgeting. When most people create a personal budget, they create a short-term budget based on their pay period. Our budgeting method helps you prepare for the expenses that occur across the entire year and is adaptable to change, which is why MyBudget's personal budgeting system is so effective.
If you'd like to learn more about creating a budget, contact MyBudget on 1300 300 922 or enquire online.
This article has been prepared for information purposes only, and does not constitute personal financial advice. The information has been prepared without taking into account your personal objectives, financial situation or needs. Before acting on any information in this article you should consider the appropriateness of the information having regard to your objectives, financial situation and needs.