Budgeting for retirement: Is $1 million enough?
When you ask yourself 'how much do I need to retire', what number do you come up with? It turns out there are a lot of variables, especially if your retirement planning strategy aims for a comfortable lifestyle over a modest one.
Based on current circumstances, 75% of respondents from an Association of Superannuation of Australia (ASFA) survey would struggle to live comfortably on the age pension alone.
How much annual income do you need in retirement?
According to ASFA as of December 2021, a retired individual needs just under $45,962 a year (approximately $1,767 per fortnight) and a couple needs just over $64,770 a year ($2,491 per fortnight). This will mean that their retirement planning standard includes certain lifestyle expenses; entertainment and leisure activities, good clothes, a reasonable car, private health insurance and occasional holidays. Keep in mind that ASFA's calculations are for retirees aged 65-84 and assume that they own their own home outright and are relatively healthy.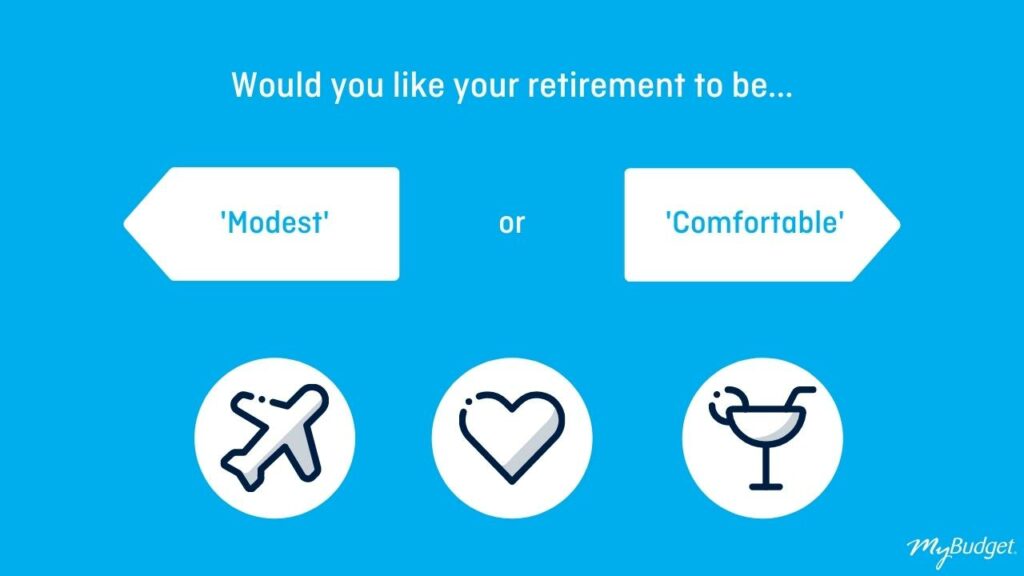 How much is the age pension in Australia?
According to the Services Australia website (last updated 19 April 2022), the maximum amount (based on additional supplements and other factors) a single person on the age pension can receive is $987.60 per fortnight, totalling $25,677.60 per year. However if they're part of a couple, the maximum rate is $744.40 each per fortnight ($1,488.80 combined), totalling $38,708.80 per year.
How much do I need to retire in Australia?
Based on the numbers above, we can see that the Federal Government's age pension only covers just over half of what is required for a comfortable retirement lifestyle. For those who don't own their own house when they enter retirement, the average rental costs as of December 2021 is $24,310 per annum, which is yet another large expense to factor into the already tight retirement budget.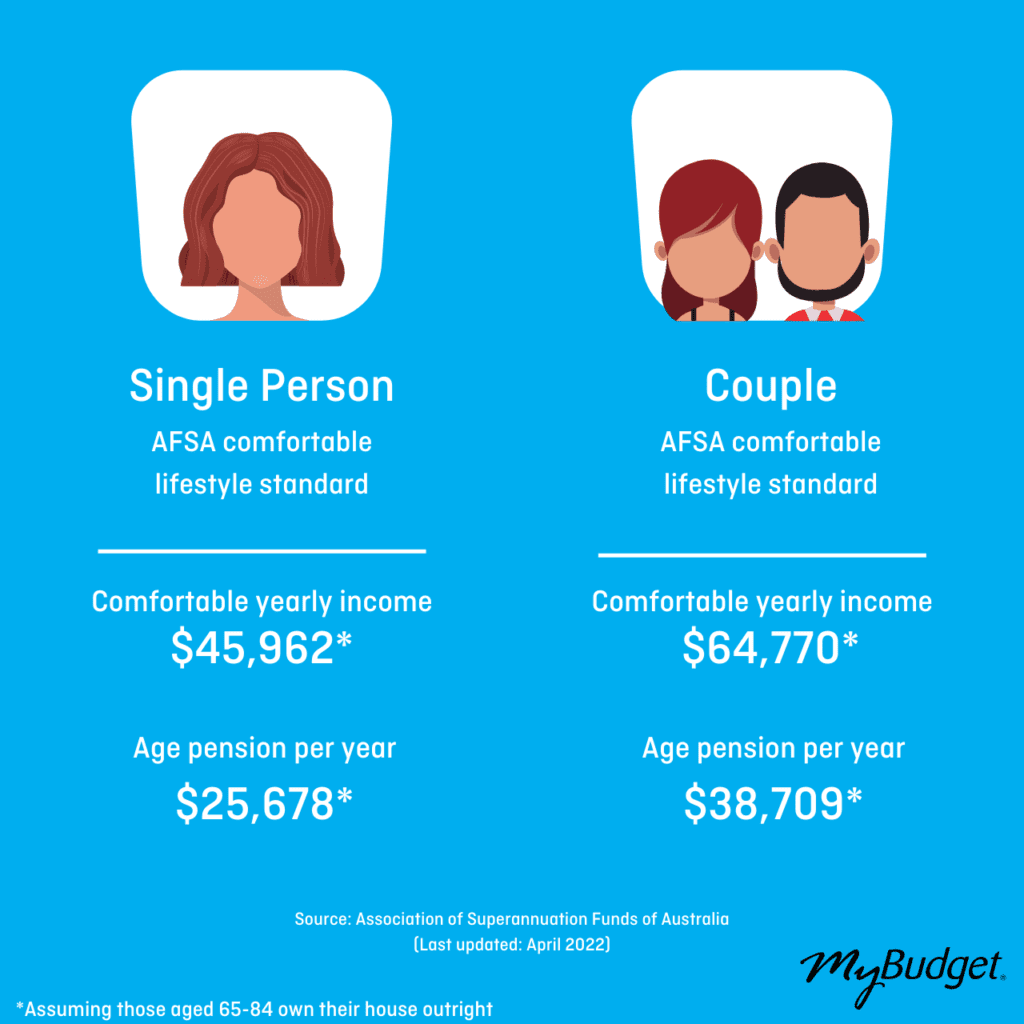 The age pension continues to be the primary source of income for Australian retirees. According to 2018-19 Australian Bureau of Statistics data, around 30% of retired men rely mainly on super and just 17% of women. Retirees with no personal income whatsoever remain at approximately 30% for women and 7% for men. All this points to around 2 million retired Australians with tight retirement planning budgets who currently rely heavily on the government age pension safety net.
For Australians looking to enter retirement comfortably at the age of 65, ASFA recommends a single person to have a current super balance of $545,000 and a couple $640,000.
Start today with a
FREE no obligation appointment.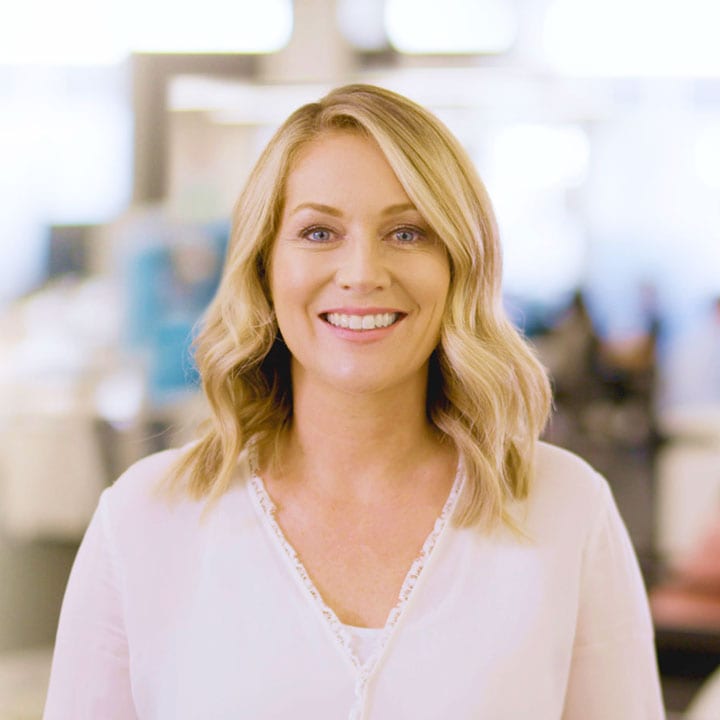 However when we factor in inflation, the rising cost of living and (at times) the unpredictable nature of federal budgets and international market trends, then this amount is likely to rise for younger generations.
According to Canstar, 30-year-old Australians would need to have a super account of approximately $61,000. On average, however, they are currently between $33,000 and $38,150 behind. Most alarmingly, the biggest super gap is currently experienced by women in their 60s, with a current super gap of a whopping $264,000.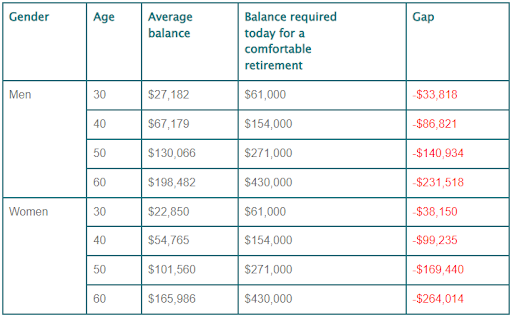 Despite needing more super savings than men due to average life expectancy, women are generally disadvantaged by lower lifetime earnings than men. According to ASFA, in 2019, one in three women did not have a super account and around one-quarter of women retired with no super at all.
Of those that did have super, women aged between 60-64 retired with a median balance of $122,848, compared to $154,453 for men. Both men and women retiring in 2019 fell well short of $545,000 ASFA recommends for a comfortable retirement.
The general opinion from the Australian population around super is quite bleak, with 73% of Australians between the ages of 50 and 64 being either not confident or unsure about their current superannuation balance. Regarding the gender gap, ASFA's survey advised that 73% of women between the ages of 18 and 64 were either not confident or unsure about their future retirement situation, whilst men were 61%.
What can you do to improve your super?
To get the most out of your super and to put yourself in the best position possible, consider:
Consolidating multiple super accounts into one to reduce costs
Choosing a fund with good long-term performance and low fees
Choosing an investment strategy that suits your financial priorities
Topping up your super to grow the balance faster.
In addition to these tips, owning your own home and paying it off before you retire will remove rent from your future budget's list of expenses. MyBudget can help you to set up savings goals and, with our dedicated loans team, even look into getting you into your own home.
Why delay your retirement planning? To transform your money and transform your life today with a customised budget plan that will help you achieve your financial goals, no matter how bog or small. Call MyBudget on 1300 300 922 or enquire online today.
Call 1300 300 922 or get started today
This content has been updated from the original post published in May, 2015.
This article has been prepared for information purposes only, and does not constitute personal financial advice. The information has been prepared without taking into account your personal objectives, financial situation or needs. Before acting on any information in this article you should consider the appropriateness of the information having regard to your objectives, financial situation and needs.
All customised budgets and consultations with money experts are subject to MyBudget's qualification criteria. We recommend that you read and consider our Product Disclosure Statement.