The Afterpay debt trap: How to escape buy now, pay later debt
Can't afford it? Afterpay it!' The buy now pay later (BNPL) scheme established by Afterpay has now become an integral part of consumers' spending habits, but the concern is whether Australians are finding themselves in a circling Afterpay debt trap that they may not be able to afford to climb out of. Find out how it works and how to escape the 'buy now pay later' trap.
How to escape the Afterpay debt trap
When using Afterpay and other BNPL services, the key to escaping the Afterpay debt trap is discipline and good old fashioned budgeting. With Afterpay's payments being due fortnightly after each individual purchase's due dates, it can get confusing quickly, so here are some tips to get you started:
Freeze your BNPL accounts
The first step to getting out of a hole is to stop digging. This is a difficult step to take, but first steps always are. By freezing your accounts, you won't be able to make additional purchases on your accounts, allowing you to focus on paying back the debt you have accumulated.
Map out payments on a calendar
Whether it's the calendar app on your phone or a physical one, either would work. Go through your BNPL apps and map out the dates/amounts that you're expecting payments to be direct debited from your account.
Then make sure you have enough money in your account to pay your instalments on time—set an alarm in your phone to remind you when they're due.
If this doesn't work, then…
Consolidate your BNPL debts
If you're struggling to pay off multiple BNPL debts, many companies allow you to consolidate your debts into a single sum to reduce your late fees and avoid the confusion of multiple payments.
To do this, you'll need to call their customer service line to discuss payment plan options.
Can MyBudget help me with my Afterpay and BNPL debts?
We spoke with MyBudget debt arrangement specialist Troy Munro who advised that there are several ways that MyBudget may be able to help with Afterpay and BNPL debt:
If the amount owing is sold off to a debt collector, then the invoices may be added as a combined balance and we can make an arrangement on the total balance.
If the debt is still with Afterpay, the client still has an account and the client is just running behind on payments, then the invoices need to be separated into their own streams.
If the debt is still with Afterpay, the client still has an account but no longer wants to use the service, then the invoices can be added as a combined balance in one stream.
Live your life
free
from money worries
Start today with a FREE no obligation appointment
Tips for using Afterpay and BNPL services
If you need to use a BNPL services, keep in mind that:
Although Afterpay and the like operate in a regulatory grey-area, Afterpay is a member of the Australian Financial Complaints Authority (AFCA), meaning that you can contact AFCA if you aren't happy with the outcome of a complaint you've lodged with Afterpay.
Many BNPL companies can increase your account balance—don't get carried away with spending more than you can afford.
Avoid linking buy now pay later accounts to a credit card unless you're confident of paying off your credit card in full every month—in which case, you probably don't need them.
Close your BNPL accounts before applying for a mortgage or personal loan—lenders can be wary of buy now pay later services and why you may need them.
Better than relying on buy now pay later schemes, create a workable budget that frees you from the debt spiral and makes sure that shopping doesn't eat into your long-term goals.
How does Afterpay work?
Afterpay is the poster child of the fast-growing BNPL business model sector. Other similar service providers include ZipPay, Certegy Ezi-Pay, Oxipay, BrightPay, Openpay and more.
BNPL works similarly to layby, with the key difference being that there's no waiting. You get to take your purchase home immediately. Your Afterpay purchase is then split into four instalments which you pay off on a fortnightly basis.
Unlike credit cards or store charge cards, Afterpay purchases are interest-free. And with no credit checks involved, applying for an Afterpay account is super-easy. In fact, approval for the service is instant. Applicants only need an active debit or credit card from which their Afterpay repayments can be made or debited from.
Afterpay's 'no credit check' policy is a way for consumers to access funds that they may not have been able to get otherwise.
How does Afterpay make money?
Most of Afterpay's net margin ($434.1 million in the 2021 financial year) comes from charging merchants and retailers who pay to use the payment platform (source: Afterpay Limited FY21 Annual Report).
The cost to merchants is roughly 5% of the transaction, which they are obliged to roll into the purchase price. Unlike credit card surcharges, which can be passed onto consumers, Afterpay's 'no surcharge' rule forbids retailers from charging vulnerable customers extra to use the Afterpay facility.
Critics of Afterpay's 'no surcharge' restriction argue that the effect is to push up prices for all shoppers. As reported by the Australian Financial Review in February 2020, Afterpay and the like have been accused of skewing the market "by hiding the true cost of using these kinds of services."
There isn't much left that shoppers can't buy with Afterpay. According to Afterpay's Annual Report for 2021, the fast-growing 'buy now pay later' service now has more than 98,000 active merchants offering the facility, and more than 16.2 million users.
There is also the non-trifling issue of late fees. Miss a payment and Afterpay won't charge you any interest, but they will slug you up to $68. Afterpay's income from missed payment charges is dwarfed by merchant fees, but it still came to a tidy $87.3 million in the 2021 financial year.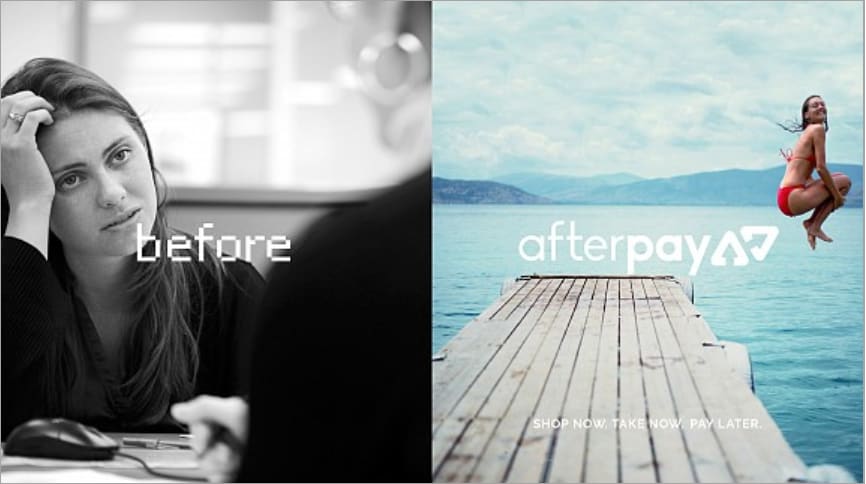 As far as success stories go, Afterpay is the darling of Australian fintech start-ups. The company went public in 2016 with a $125 million listing. Just five years later, according to Afterpay's 20201 Annual Report, the company has since reached a $910.9 million turnover from $22.4 billion in underlying sales. 'Underlying sales' refers to sales attributed to Afterpay via its retail network.
Much of this growth comes from expanding the brand into the United States and United Kingdom where Afterpay is rapidly growing in popularity.
If that weren't reason enough for Afterpay to celebrate, Chinese tech-giant Tencent made a $300 million purchase of a 5% stake in the company in 2020. Some experts say that the collaboration is a step towards expanding Afterpay into China where the platform's growth could be almost exponential.
No interest, but late fees
While Afterpay purchases are technically interest-free, a customer's Afterpay purchases can be gathering missed late payment fees at a rate that could exceed many credit cards.
In the same way Ernest Hemingway described how he found himself bankrupt—'Two ways: gradually, then suddenly'—an Afterpay debt trap can easily feel as though it had crept up overnight.
A customer's Afterpay account is initially manageable, but as they continue to use the service, the bills snowball. Simultaneously, the available Afterpay balance can increase the longer the service is used.
This is backed up by Afterpay's website that says the longer you've held an account, and the more impulse purchases you successfully repay, the more likely you are to be approved for a higher amount.

Buy now pay later regulations
In November 2022, The Australian Treasury took further steps to regulate buy now pay later companies. As a result, the Treasury are proposing three potential options:
Stronger industry self-regulation, coupled with a new affordability test requirement;
Partly bringing BNPL into the Credit Act, including licensing providers and a sliding "unsuitability test";
Completely bringing BNPL into the Credit Act in line with credit cards and other traditional credit products.
MyBudget has seen a rapid increase in the number of people seeking help with out of control Afterpay accounts. One of the most striking cases was a 26-year-old with more than 71 Afterpay purchases over 12 months.
Afterpay claims that 27% of Millennials (born between 1980 and 2000) in Australia have used their service and they expect this to likely increase to 48% by 2030. Not surprisingly, the instant approval policy skews Afterpay towards a younger demographic that is tech-savvy and credit wary, and whose financial experience is still developing. Some critics argue that younger consumers are more easily taken advantage of.
MyBudget founder and director Tammy Barton says, "In our experience at MyBudget, people with multiple active Afterpay transactions are more likely to be in their twenties or thirties and have a history of using other buy now pay later services, payday loans, or be in a debt agreement, which limits their access to other forms of credit."
A 2018 Australian Securities and Investment Commission (ASIC) report found one-in-six buy now pay later customers were in financial trouble and more than half were aged between 18 and 32.
Tammy Barton continues, "We've seen increased numbers of people who are already debt-stressed, opening Afterpay accounts. This is because Afterpay and other buy now pay later service providers skirt the rules that stop lenders from providing credit where it would be unsuitable."
Since ASIC's investigation, BNPL services have committed to a voluntary Australian Finance Industry Association Buy Now Pay Later Code of Practice (March 2021).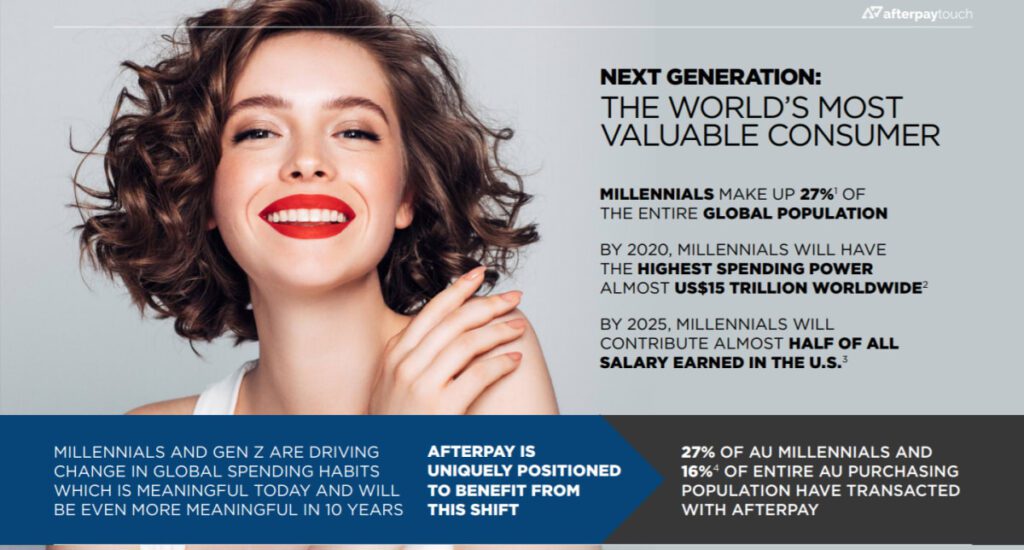 Breaking the buy now pay later addiction
As previously mentioned, the most efficient way to free yourself from the Afterpay debt trap is to manage your personal finances using a budget. Paying off these debts on time and building your credit score will boost your chances of reaching your financial goals and living the life you want to live.
Here at MyBudget, we have helped over 130,000 Australians with their finances, helping them to reach their budgeting goals, break the debt spiral and pay their bills on time. To learn more, you can call us on 1300 300 922 or enquire online.
Call 1300 300 922 or get started today
This article has been prepared for information purposes only, and does not constitute personal financial advice. The information has been prepared without taking into account your personal objectives, financial situation or needs. Before acting on any information in this article you should consider the appropriateness of the information having regard to your objectives, financial situation and needs.