Could Afterpay and buy now pay later land you in more debt
It's important to approach Afterpay and other buy now pay later (BNPL) services with caution, as they can potentially lead to increased debt. While they may offer the convenience of spreading out loan repayments, it's crucial to remember that using these services still means accumulating debt. Without careful management, it's easy to fall into a cycle of borrowing more than you can afford to repay.
In this article, we will explore the potential financial risks associated with Afterpay and BNPL services and provide valuable tips on avoiding the pitfalls of accumulating excessive debt. By being aware of the potential dangers and making informed decisions, you can safeguard your financial wellness and avoid financial strife.
What are BNPL loans?
Buy now pay later (BNPL) loans have become increasingly popular among consumers who are looking for alternatives to credit cards, traditional banks and lenders. This payment method allows consumers to make small and more expensive purchases immediately and pay for them in installments over time, without the need for a credit card or traditional credit product.
BNPL works like a zero-interest payment plan or a form of layby. In the case of BNPL, however, the consumer gets to make their purchase immediately. With platforms like Afterpay, for example, you make your first upcoming payment at the time of purchase, and the remainder is split into equal fortnightly payments.
BNPL loans can be enticing to consumers as they often do not charge interest to the user. However, it is important to note that if you make a late payment, there may be capped late fees imposed by the BNPL provider.
While BNPL loans can offer convenience and flexibility, it is important for the average consumer to carefully consider their financial situation before using this payment method.
Can Afterpay and buy now pay later land me in more debt?
If you're not careful, using Afterpay and other buy now pay later services can easily lead to more debt. These services provide additional forms of credit, which means that if you use them to purchase items that aren't within your budget, it can quickly snowball into a debt spiral.
One thing to consider is how easy it is to make purchases through these services. You can sign up on the spot in the store, which can be tempting when you have an item in one hand and the ability to own it in the other. The ease of signing up and the instant gratification can lead you down a rabbit hole if you're not careful.
Live your life
free
from money worries
Start today with a FREE no obligation appointment
While it may seem convenient, it also opens the door to making impulse purchases and exceeding your budget. It's important to note that many buy now pay later services don't conduct credit checks on your credit history when approving applications. This means that if you don't make every repayment on time, you could end up with compounding late payment fees and even damage your credit history.
To avoid falling into a never-ending cycle of debt, it's important to exercise caution and discipline when using Afterpay and buy now pay later services. By understanding the potential hidden risks and practising responsible financial habits, you can protect yourself from accumulating excessive debt through these services.
Furthermore, since many services don't require credit checks, once you reach your spending limit, there's nothing stopping you from maxing out one service after another. As these debts stack up, you may find yourself in a situation where you have more debt than you can afford to pay off.
How do companies make money on BNPL?
Companies in the BNPL industry have various ways of generating revenue. One method is by passing on the extra costs of using the BNPL service to customers through higher prices. For instance, retailers who are contractually obligated to follow Afterpay's 'no surcharge' policy may increase the purchase prices to cover the approximately 5% per transaction fee charged by Afterpay.
BNPL has become a lucrative business model, as evident from Afterpay's 2021 annual report. In Australia and New Zealand alone, their revenues increased by 102% compared to the previous year, and earnings from active merchants saw a 77% improvement. Apart from Afterpay, there are several other BNPL providers in the market, such as ZipMoney, ZipPay, Oxipay, Lombard, Certegy, Brighte, CreditLine, Openpay, and Once.
Traditional banks have also recognised the potential of the BNPL model and are joining the trend. For example, CBA's CommBank BNPL aims to offer similar services at a lower cost than Afterpay. With the increasing popularity of BNPL, companies are finding innovative ways to monetise these payment types.
Why are people using buy now pay later?
People are increasingly drawn to using buy now pay later services for a variety of reasons. One of the main factors is the convenience it offers. Applying for credit or a credit card can be a hassle, and physically handing over cash can also be inconvenient. In contrast, using buy now pay later platforms often involves a simple click of a button in an app, making the payment process feel effortless.
Another reason people are using buy now pay later is that the process can be seen as taking advantage of consumer psychology. Several studies point out the psychological differences between paying by cash vs credit card or other easier methods such as BNPL, where people tend to overspend and buy impulsively. Less 'painful' payment methods are more easily treated as play or Monopoly money.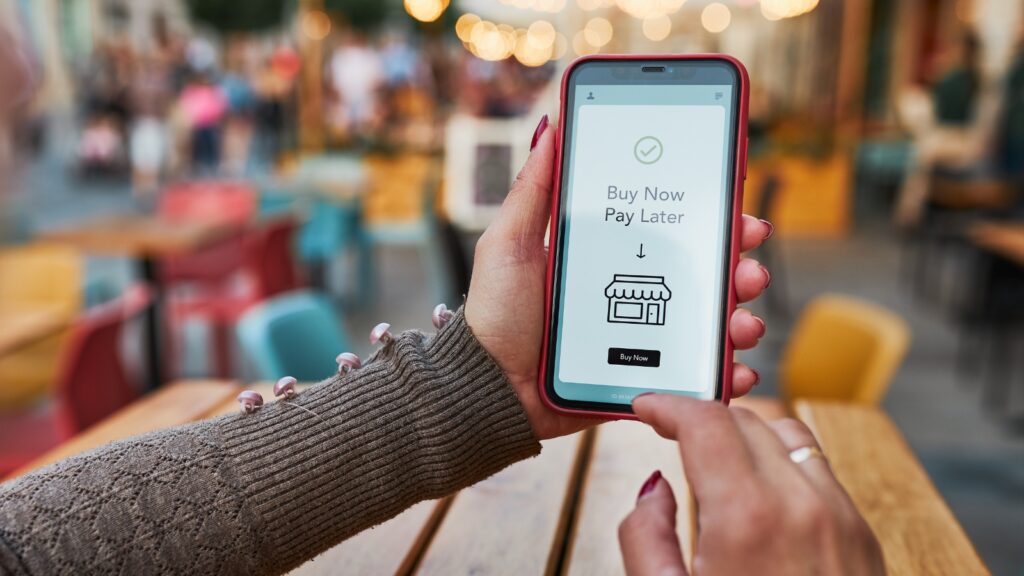 Buy now pay later alternatives
One effective alternative payment option to Afterpay and buy now pay later services is to use your own money instead of relying on these high-interest services. By creating a budget, you can track your income and expenses, identify areas where you can save, and gain a clear understanding of whether your purchases are necessities or luxuries.
Unlike services like Afterpay, which can feel like all-you-can-eat buffets with little control, utilising your own money and budgeting can provide you with a sense of financial responsibility and avoid potential regrets in the future.
What if I'm already in debt?
If you're finding yourself feeling alone in debt, we can assure you that you're not the only one. Many Australians find themselves in a revolving door of bad debt, using BNPL services to pay for essentials like groceries and household bills.
If you're experiencing financial hardship, finding yourself circling a never-ending slippery slope of debt, and wanting to improve your credit rating, then a budget is sure to help provide future financial freedom and avoid additional risk. MyBudget has helped over 130,000 Australians with their finances, helping them to reach their budgeting goals, improve their cash reserves and make their bill repayments on time.
With our system able to make automatic payments, you can relax knowing your debts are being taken care of and you can successfully budget for expenses. To learn more, you can call us on 1300 300 922 or enquire online.
Call 1300 300 922 or get started today
This article has been prepared for information purposes only, and does not constitute personal financial advice. The information has been prepared without taking into account your personal objectives, financial situation or needs. Before acting on any information in this article you should consider the appropriateness of the information having regard to your objectives, financial situation and needs.