8 budget-friendly Halloween costume ideas that won't scare you silly
If you dread Halloween because of the pressure to come up with a creative and unique costume, all while keeping within budget, fear not! We have some budget-friendly Halloween costume ideas that won't scare you silly when it comes to your bank account.
Halloween costumes can be expensive, especially if you're looking for something original and eye-catching. But who says you have to break the bank to have a memorable costume? With a little creativity and some clever shopping, you can put together a great costume without emptying your wallet.
In this article, we'll share 8 budget-friendly Halloween costume ideas that are easy to put together and won't cost you a fortune. From classic dress-up costumes with a twist to DIY creations using items you may already have, these ideas will help you have a spooktacular Halloween without the scary price tag.
8 budget-friendly Halloween costume ideas
If you're searching for Halloween costume ideas that won't break the bank, then look no further! Below is a list of 8 budget-friendly costume ideas that are sure to impress without terrifying your wallet. From classic options like zombies and ghosts to more creative choices like a gift box or punk rocker, there's something for everyone.
Many of the ideas below are creative costumes that can be made with bits and pieces found around the house. A black dress, a striped shirt, some black gloves; you can be very crafty making homemade costumes when trying to find some costumes for kids.
Zombies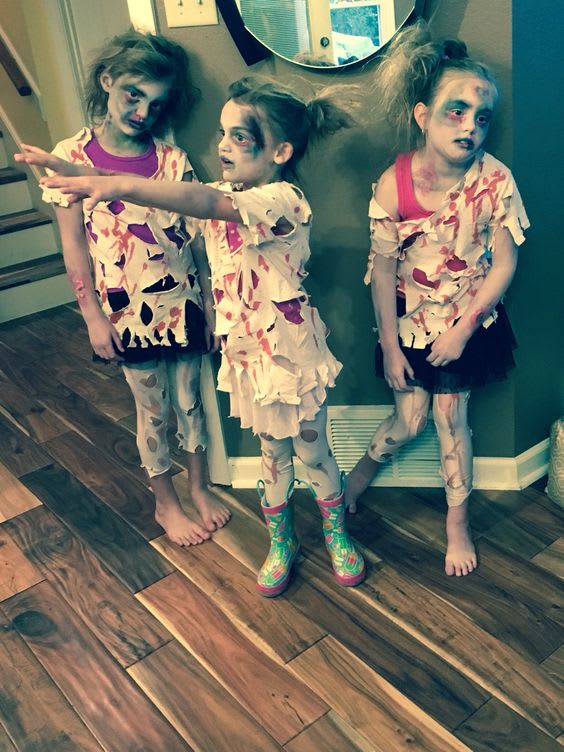 Zombies are a classic choice for Halloween, and they can also be a great budget-friendly option. With a little creativity, you can easily put together a zombie costume using old collared shirt and pants that you already have. All you need to do is grab some scissors and start zombifying your clothing.
To complete the look, add some dark circles under the eyes with eyeshadow or take out the paint palette and use face paint to create a spooky effect. With this simple DIY approach and costume tutorial, you can easily make hordes of zombies, perfect for a group of kids or a couples costume.
Ghosts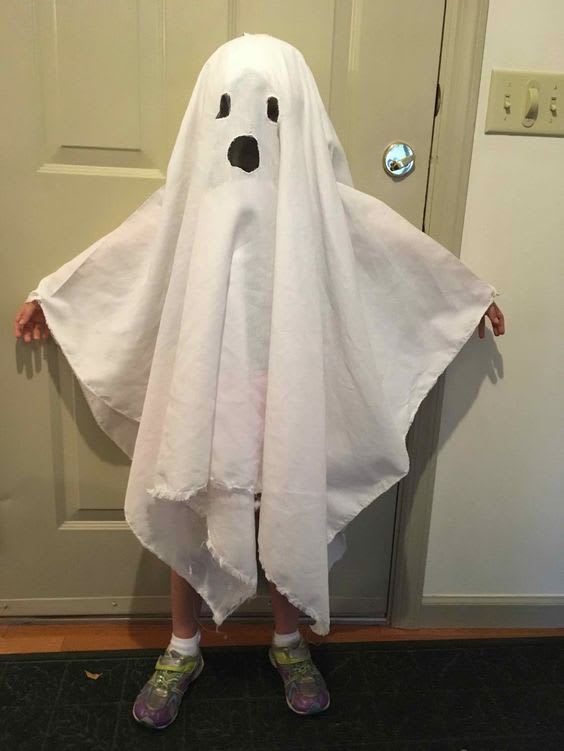 Ghosts are a classic and budget-friendly option for Halloween costumes. Inspired by the iconic ET movie scene, dressing up as a ghost is not only simple but also inexpensive. All you need is an old bed sheet and a pair of scissors; you don't really need a very extensive costume tutorial for this one and it works great as a last-minute Halloween costume. With just a few cuts for eyes and arms, you can easily create a spooky ghost costume that will surely make a statement when you shout "BOO!"
Gift box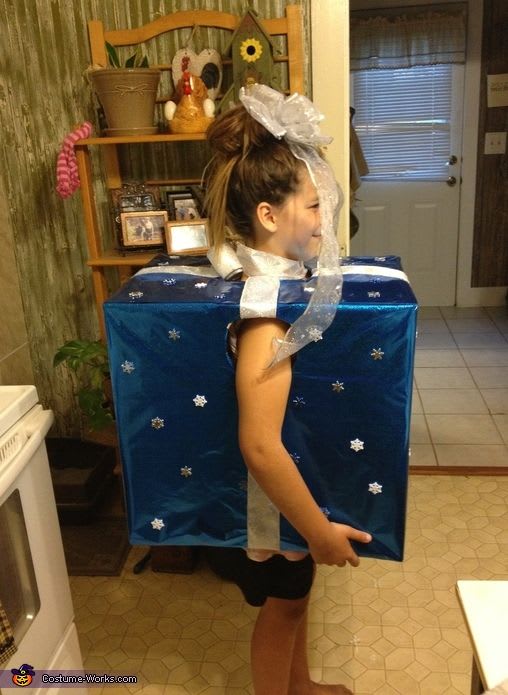 Dressing up as a gift box is certainly a unique and fun option that will definitely make you stand out from the crowd. Plus, you don't need to be a master gift wrapper to pull it off!
Creating this DIY Halloween costume is simple. Just take a large box and wrap it in Christmas paper. Simply wearing pants and a black shirt underneath, cut out holes for your arms, legs, and head to fit through (including through the paper), and voila! You'll have a creative and festive costume that your kid will love. It's a gift within a gift; a punny costume, indeed!
Mummies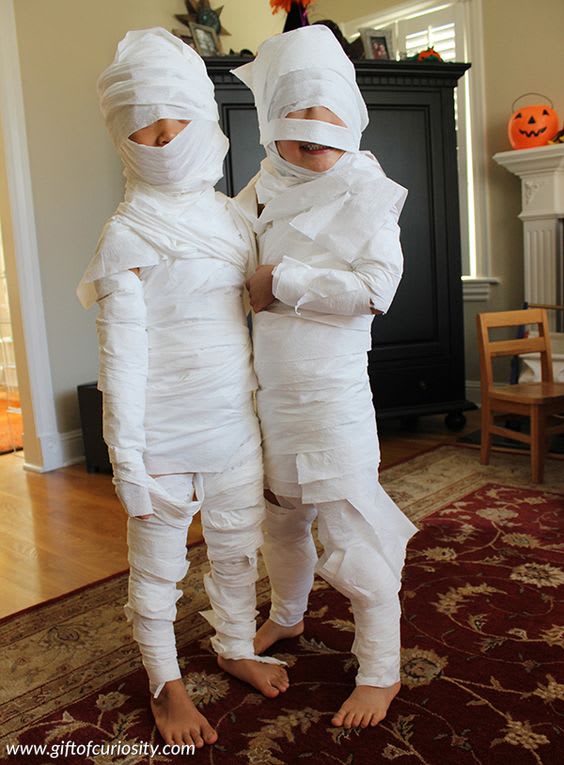 For a budget-friendly Halloween costume idea that's both easy and recognisable, consider dressing up as a mummy. This classic costume has been popular for years and is simple to put together. All you need is some toilet paper and a little creativity. Use a couple of toilet paper rolls to create an Egyptian mummy look by wrapping yourself in toilet tissue. It's a fun and spooky costume that's perfect for Halloween!
Live your life
free
from money worries
Create your own budget plan designed to help you live the life you want
Little old man or lady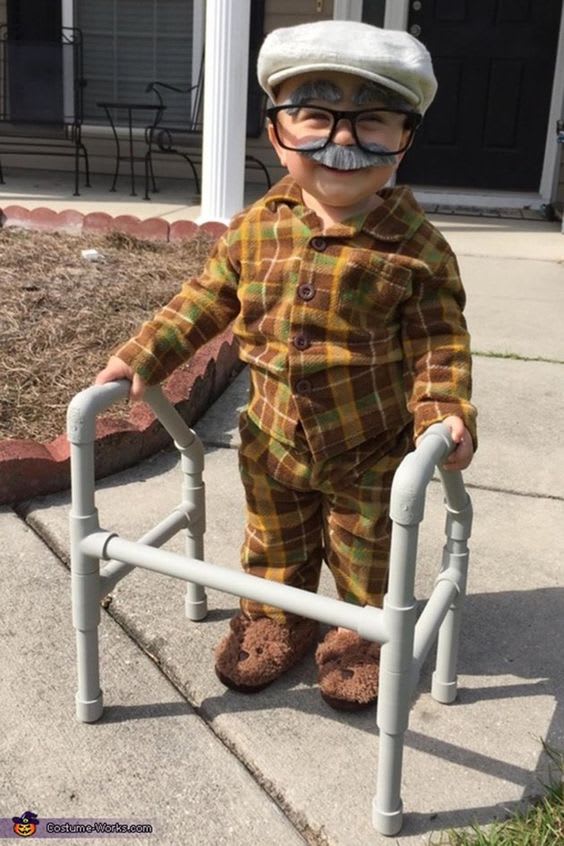 Dressing up little ones as little old folks is always a hit. It can be funny and endearing, especially if you put some effort into making a mini Zimmer frame from plumbing pipes.
To achieve this look, simply borrow a dress from grandma or flannel shirt from grandpa and apply some powder for grey hair (no offense, of course). This quick and easy costume will instantly transform your child into a little old man or lady, adding a touch of charm to their Halloween festivities.
For the finishing touch, add some caked makeup to enhance their aging transformation. This costume idea is not only budget-friendly but also sure to bring smiles to everyone's faces on Halloween night.
Laundry basket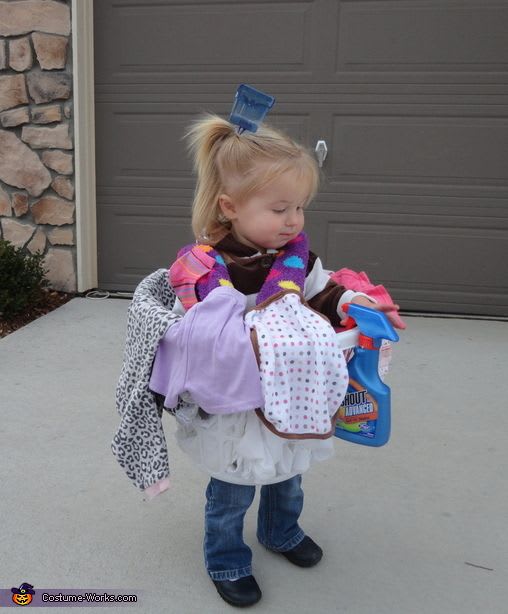 One unique Halloween costume we've found is a laundry basket costume. This unique and creative costume involves using a plastic laundry basket from Kmart or Big W, cutting a hole in it to wear around the waist, and filling it with dirty socks and other clothing items. It may seem unconventional, but the horror factor is undeniable. Plus, it's a win-win situation as you'll have a spooky convincing costume and maybe even scare your kids into helping with the laundry!
Punk rocker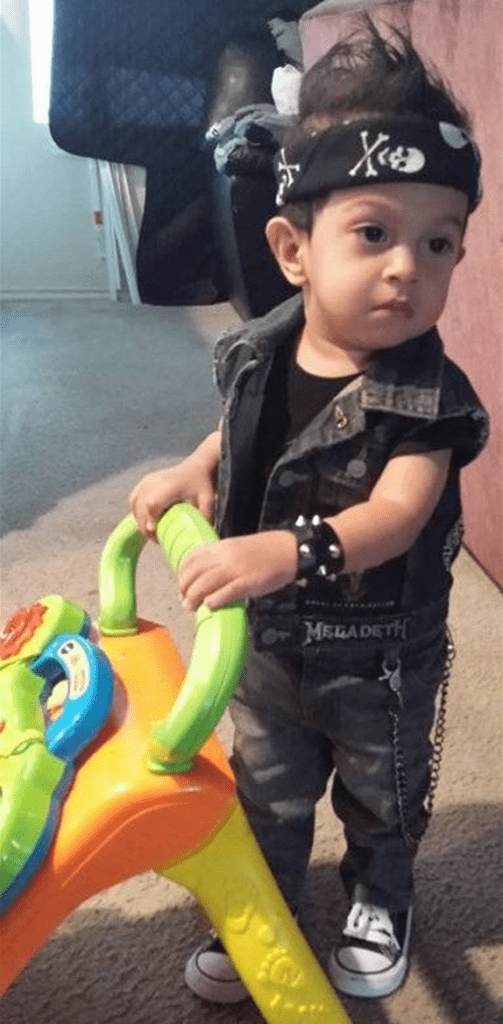 If you're little ones are ready to rock, why not dress them up as punk rockers? It's a cute and edgy look that is sure to make them stand out. Don't be afraid to get creative with their hair – use gel or coloured hair spray to spike it up. And for that authentic punk rock touch, add some metal studs to their leather jacket and a pair of jeans, with a plain white T-shirt underneath the jacket. Add some black sunglasses and this last-minute costume idea will let your kids rock the Halloween party without breaking the bank.
Fortune-teller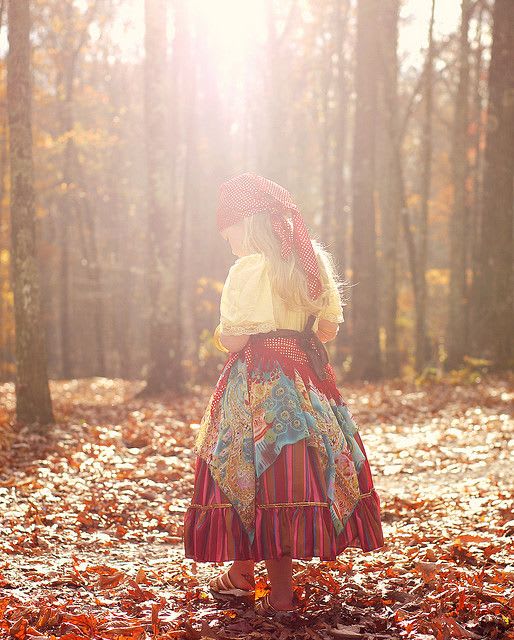 A fortune-teller costume can be easily put together by raiding your grandma's jewellery box or your mum's closet for a long skirt, plaid shirt, and some long beads. If you don't have these items at home, you can always find them at a thrift store. The best part is that these DIY Halloween costumes can be so fabulous that your kid might even want to wear them all year round!
Ready to make your own budget Halloween costumes?
We hope these cheap convincing costume ideas will make your child stand out from the crowd, while also taking the stress out of the spooky season. These DIY Halloween costumes can also help you save a bunch of cash, too, and you won't be putting yourself out of contention for any costume contest.
And if you're still looking for more ideas, remember that a lot of these ideas were made with items found around the house. Take out an old plain shirt and some black jeans and you can do a lot with that. There are plenty of makeup ideas you can have fun with and if you're not creative, nobody will be upset to see any of the last-minute Halloween costume ideas that the internet boasts.
And don't forget, you can always repurpose an existing costume. Did your child dress up for Book Week? Do they already have costumes for dance or a dress-up box full of options?
There are a whole lot of cheap DIY Halloween costumes that can be reused for multiple occasions.
Spooked by money? Financial skeletons in the closet? MyBudget can help to clean off the cob webs for free.
If receiving bills is spookier than a ghost train, give MyBudget a call to find out how easy it is to get your finances back on track.
Call 1300 300 922 for a quick chat with one of our friendly money coaches and to book your free budget consultation or enquire online.
Call 1300 300 922 or get started today
This article has been prepared for information purposes only, and does not constitute personal financial advice. The information has been prepared without taking into account your personal objectives, financial situation or needs. Before acting on any information in this article you should consider the appropriateness of the information having regard to your objectives, financial situation and needs.