Get creditors off
your back and
breathe easier.
Let us worry about it.
Tired and stressed from being chased by creditors and debt collectors?
Let us worry about your creditors while you get back to enjoying life again.

Being pursued by creditors can be incredibly time consuming and stressful. There are harassing phone calls to deal with, the pressure of demand letters and the constant threat of default or repossession. The stress can impact all areas of your life, including decreased job performance, relationship problems and health worries. In such a state, it's hard to make clear decisions.

MyBudget is here to help. We can speak with your creditors on your behalf about payment terms that may be fairer and more affordable. Imagine the sense of peace that comes from knowing your finances are under control. We can analyse your finances and design a customised budget plan that assists you to begin developing a good credit score, one payment at a time. Book your free, no obligation budget consultation to find out more. so breathe. Find out how we could help you today.
Please call us on 08 8214 4256
---
or
---
We can call you
Fill out the form below and we'll call when it suits you.

1

Call 1300 300 922 or Enquire Online
---

One of our friendly consultants will talk with you, confidentially, about your situation, answer your questions and book a free budget consultation for you at one of our 11 offices nationwide or over the phone.
Book your free consultation

During the consultation, you'll meet one of our highly-trained, personal budgeting specialists. They have a tertiary qualification in finance, such as a Certificate IV or Diploma of Finance and Mortgage Broking. They are also professionally trained in budgeting and debt management.

More importantly, they genuinely care.





They'll gather detailed information about your finances and create a customised budget plan to start achieving your goals.
3

Receive a customised budget plan - just for you
---
By the end of the consultation, you'll have deep insight into your financial situation, as well as a tailored budget that shows you how to achieve your goals.
There's no obligation to become a client. Your customised budget plan is yours to keep.
What are the benefits for a MyBudget client?
---
Total visibility of your finances at your fingertips 24/7 via our client website

A dynamic plan that works to pay your bills and loan repayments & pay off your debt

We do the legwork so you don't have to worry - your payments and obligations to creditors are prioritised, scheduled and paid on your behalf, using your income.

Support and guidance from our caring experts.

Much, much more.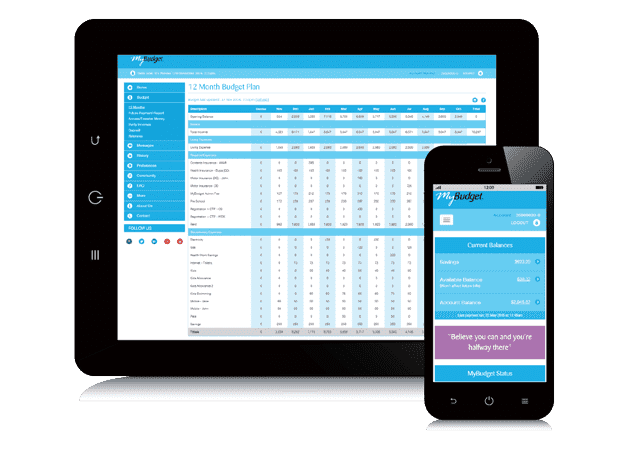 When creditors start making demands, it can be tempting to hide your head in the sand. But money problems rarely fix themselves, especially when debt collection is involved. In fact, it becomes even more important to remain in communication with your creditors. Debt has a habit of snowballing as late fees and charges are added to overdue interest, while defaults can lead to actions such as repossession and foreclosure.
MyBudget can help by designing a customised budget plan just for you—a fully personalised strategy that creates the foundations for a future of good credit as you take control of your finances. Are you worried that your bills are too far behind? That's ok. We have extensive experience dealing with creditors and lenders. We can often negotiate more affordable payment terms on your behalf. And the best part? We can take over communications with your creditors which means you can begin to relax again.

We understand. That's why our commitment is to design a customised, sustainable budget strategy that gives you a sense of relief, as well as a blueprint for your long-term financial success. The budgets people make for themselves, on the other hand, are usually based on a calendar month or pay cycle. Unfortunately, that approach is generally too short-term to test the true workability of a budget.
The budgets we design are detailed, long-range plans that thoroughly examine your financial commitments over a 12-month period. It can reveal the extent of your situation and opportunities to get your budget balancing again. By the end of your free budget consultation, you will understand what can be achieved with your income and what actions you may choose to take. Furthermore, creditors are often more accommodating when a person demonstrates they have a workable budget and are earnest about meeting their commitments.

Life is full of competing demands and people have less and less time to manage their money properly. That's why we also offer to do the legwork. Our budget management services include bill paying, disbursing money for living expenses, savings and long-range expenses, budget adjustments, and a caring customer service team that provides attentive, personalised support. A reminder that we also have a dedicated negotiations team that can take the pressure off you by talking with your creditors and potentially arranging more affordable payment terms on your behalf.
In addition, you are able to view your budget online 24/7 and have access to a suite of tools that take the guesswork out of money management. Every last cent of your money is accounted for. You won't have to wonder where your money went. As well, your 12-month forecast can show you exactly how you're tracking towards your goals. You relax while we do the work.