Personal budgeting is one of the only ways to truly gain control of your money and financial future.
No matter what your financial goals are, being able to budget effectively is key to achieving them.

Mortgage repayments, rent, credit cards, groceries, petrol, car payments, medical bills, utilities, school fees… the list of life's expenses is endless! Some people find themselves constantly juggling multiple bills and can get caught in a cycle of struggling to make ends meet.

The good news is that MyBudget can help. We can look at your financial situation in detail and create a long range personal budgeting plan that makes it easier to stay on top of things. What's more, we can do the leg work and manage the plan for you. The budget plan is live and changes with you as your needs change. This allows you the flexibility to manage whatever life throws your way!

Since 1999, we've helped over 108,000 Australians to save money and take control of their finances. Find out how we could help you!
Please call us on 1300 300 922
---
or
---
We can call you
Fill out the form below and we'll call when it suits you.

1

Call 1300 300 922 or Enquire Online
---

One of our friendly consultants will talk with you, confidentially, about your situation, answer your questions and book a free budget consultation for you at one of our 11 nationwide or over the phone.
Book your free consultation
During the consultation, you'll meet one of our highly-trained, personal budgeting specialists. They have a tertiary qualification in finance, such as a Certificate IV or Diploma of Finance and Mortgage Broking. They are also professionally trained in budgeting and debt management.


More importantly, they genuinely care.


They'll gather detailed information about your finances and create a customised budget plan to start achieving your goals.
3

Receive a customised budget plan - just for you
---
By the end of the consultation, you'll have deep insight into your financial situation, as well as a tailored budget that shows you how to achieve your goals.
There's no obligation to become a client. Your customised budget plan is yours to keep.
What are the benefits for a MyBudget client?
---
Total visibility of your finances at your fingertips 24/7 via our client website
A dynamic plan that works to pay your bills and loan repayments & pay off your debt
We do the legwork so you don't have to worry - your payments and obligations to creditors are prioritised, scheduled and paid on your behalf, using your income.
Support and guidance from our caring experts.
Much, much more.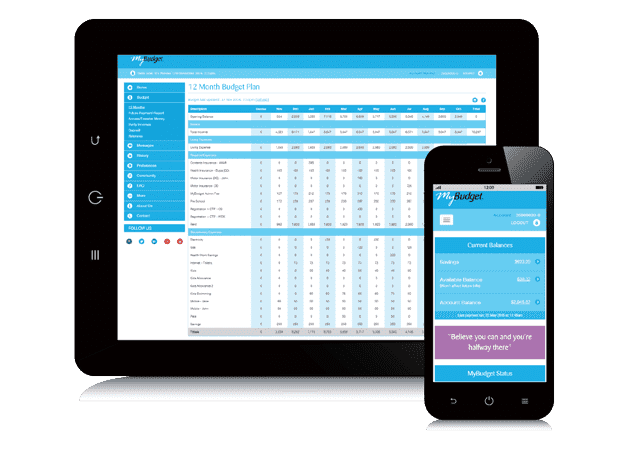 See how we have helped others
We've helped these clients get on track and pay their bills on time
Giles & Kathryn, MyBudget clients
"We weren't in debt but we were still living week-to-week so it was a bit of a stressful time...We'd been to financial planners and they hadn't really given us the structure that we actually needed...We've saved thousands since joining MyBudget so it's been really quite exciting."
Giles & Kathryn, MyBudget clients
Michael & Rachel, MyBudget clients
"My pay had increased substantially over the last few years, but we were still wondering where the money was going...Life's good now because if a bill does come in I know that MyBudget will… pay it and I don't have to stress about it at all."
Michael & Rachel, MyBudget clients
Cailtin & Marco, MyBudget clients
"One week we'd have lots of money for the bills and one week we wouldn't. When we talk about our future together now we're a lot happier and a lot more relaxed and excited about what we're going to be able do rather than constantly worrying about what we can't do."
Cailtin & Marco, MyBudget clients