Reduce mortgage stress

and take control of your finances



Do you need help paying your mortgage? Are you worried about foreclosure?
We help to reduce mortgage stress, avoid future mortgage defaults and can assist in preventing foreclosure.

The rising cost of housing is a leading factor in mortgage stress. Coupled with increasing job insecurity, it's easy to understand why so many households are concerned about mortgage defaults or the threat of repossession.

Avoid becoming a foreclosure statistic. MyBudget can help by analysing your financial situation and designing a customised strategy that puts you in control of your finances. We are expert at getting mortgage repayments back on track — we can even talk with your bank and creditors on your behalf. You have nothing to lose. A free, no obligation budget consultation is a great way to explore all of your options.
We've helped nearly 108,000 Australians take control of their finances since 1999. Find out how we could help you.

Please call us on 1300 300 922
---
or
---
We can call you
Call us on 1300 300 922 or fill out the form below and we'll call when it suits you.

1

Call 1300 300 922 or Enquire Online
---

One of our friendly consultants will talk with you, confidentially, about your situation, answer your questions and book a free budget consultation for you.
Book your free consultation
During the consultation, you'll meet one of our highly-trained, personal budgeting specialists. They have a tertiary qualification in finance, such as a Certificate IV or Diploma of Finance and Mortgage Broking. They are also professionally trained in budgeting and debt management.

More importantly, they genuinely care.


They'll gather detailed information about your finances and create a customised budget plan to start achieving your goals.
3

Receive a customised budget plan - just for you
---
By the end of the consultation, you'll have deep insight into your financial situation, as well as a tailored budget that shows you how to achieve your goals and pay off your debts.
There's no obligation to become a client. Your customised budget plan is yours to keep for free.
What are the benefits for a MyBudget client?
---
Total visibility of your finances at your fingertips 24/7 via our client website
A dynamic plan that works to pay your bills and loan repayments & pay off your debt
We do the legwork so you don't have to worry - your payments and obligations to creditors are prioritised, scheduled and paid on your behalf, using your income.
Support and guidance from our caring experts.
Much, much more.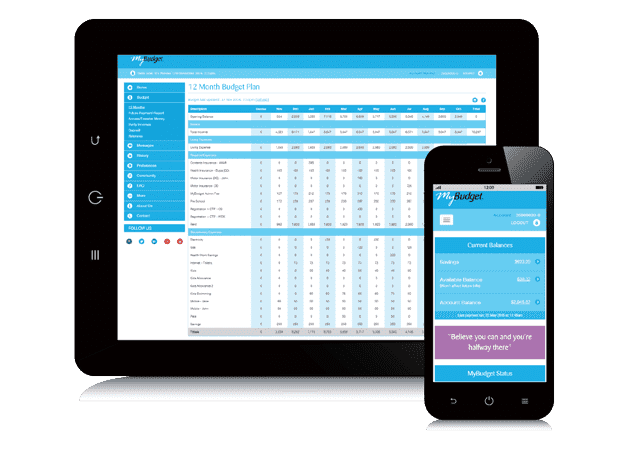 When you take out a home loan, the lender holds the property as security. Should you default (stop making payments) on the mortgage, the lender may exercise their right to repossess the property. This process is called "foreclosure." Generally, your bank or lender will give you multiple warnings about your payments being behind and what you need to do to fix the problem. If the matter is not rectified, the lender may then issue you with a notice of intention to sell the property.
Communication is the key to making sure that matters with your bank or lender never reach that point. It is important to keep your lender informed about any payments you have missed and/or are likely to miss in the future. Your lender may be willing to grant you a hardship variation or agree to terms that are more affordable for you.
MyBudget has extensive experience dealing with creditors and lenders, and we generally know what sorts of terms are achievable. We may be able to negotiate altered payment arrangements for you, which could, for example, include a break from payments, reduced payments for a period of time, or the capitalisation of arrears to the end of the loan term.

Yes! Personal budgeting is the only way to truly understand what can be achieved with your income. The budgets we create are detailed, long-range plans that thoroughly map your financial commitments over a 12-month period. Budgets and apps that deal with only pay-to-pay or month-to-month income and expenditure are not comprehensive enough to analyse your financial circumstances to the level of detail required.
With the information we gather, we will help you to explore your options and design a personalised strategy to achieve your financial goals. In the immediate term, your goal may be to get your mortgage payments back on track or prevent the foreclosure process. Once your mortgage is under control, it's likely that you'll start thinking about new goals. We recognise that circumstances and priorities change, which is why our budgets are designed to be dynamic and flexible.
There is no financial problem too complex for our personal budgeting experts to analyse. More importantly, you will discover that our staff genuinely care about you and your situation. We will help you understand your options so that you can make an informed decision about the best approach for you and your family.
The anxiety of defaulting on your mortgage, the worry of facing foreclosure, and the fear of having no roof over your family's head — it may feel like life is spiralling out of control. The stress can be paralysing. However you don't have to do it on your own. As well as helping you design a debt strategy that relieves your mortgage stress over time, we can do the legwork that keeps your budget on track.
Our budget management services include bill paying, disbursing money for living expenses, savings and long-range expenses, budget adjustments, and a caring customer service team that provides attentive, personalised support. We also have a dedicated negotiations team that can liaise with your creditors on your behalf. They are 100% committed to achieving fairer, more affordable payment terms for our clients.
In addition, you are able to view your budget online 24/7 and have access to a suite of tools that take the guesswork out of money management. Every last cent of your money is accounted for. You will never again wonder where your money went. Additionally, your 12-month forecast will show you exactly how you're tracking towards your goals. You sit back and relax while we do the work.