Don't gamble

with your
finances.
Don't gamble with your finances.
Budgeting is one of the only ways to truly take control of your finances.


MyBudget specialises in tailored debt solutions designed for your specific situation. We recognise that each person's needs are unique and different. That's why there are no one-size-fits-all solutions at MyBudget.

Whether you're keen to save money faster, pay off debts or struggling to make ends meet, MyBudget can help. We can help you understand your options and design a strategy that works for you.

It's never too late to get back on track.

Since 1999, we've helped over 108,000 Australians across the country. Book your free consultation today and find out how we could help you.

Please call us on 1300 300 922
---
or
---
We can call you
Fill out the form below and we'll call when it suits you.

1

Call 1300 300 922 or Enquire Online
---

One of our friendly consultants will talk with you, confidentially, about your situation, answer your questions and book a free budget consultation for you at one of our 11 offices nationwide.
Book your free consultation

Our personal budgeting specialists are highly-trained. They have a tertiary qualification in finance, such as a Certificate IV or Diploma of Finance and Mortgage Broking. They are also professionally trained in budgeting and debt management.

More importantly, they genuinely care.

They'll gather detailed information about your finances and create a customised budget plan to start achieving your goals.
3

Receive a customised budget plan - just for you
---
By the end of the consultation, you'll have deep insight into your financial situation, as well as a tailored budget that shows you how to achieve your goals and pay off your debts.
There's no obligation to become a client. Your customised budget plan is yours to keep for free.
What are the benefits for a MyBudget client?
---
A dynamic plan that works to pay your bills and loan repayments & pay off your debt.
Total visibility of your finances at your fingertips 24/7 via our client website.
We do the legwork so you don't have to worry - your payments and obligations to creditors are prioritised, scheduled and paid on your behalf, using your income.
Support and guidance from our caring experts.
Plus much, much more!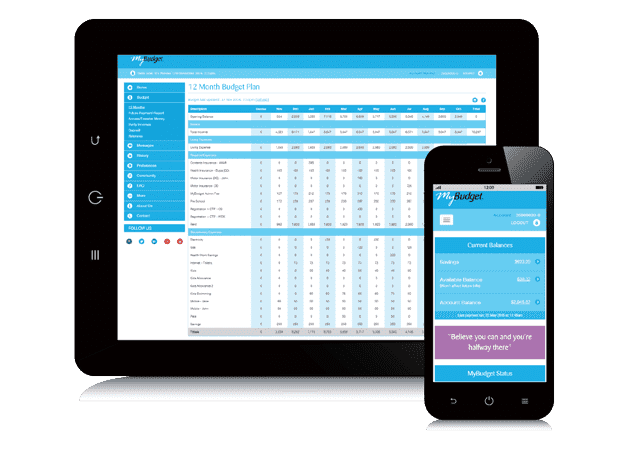 We can examine your situation in detail and design a customised budget plan that achieves your goals.
Until you have analysed your finances in detail, it's difficult to determine your financial position. At MyBudget, the budget plans we prepare are true long-range money and debt management plans.
Your free, customised budget plan can analyse and project your finances over a 12-month period. At the end of the process, you will have an understanding of what is achievable.
What will you do with the extra savings? Pay off your debts sooner? Reduce your mortgage? Invest in shares? Take a holiday? Or simply, enjoy the feeling of satisfaction that comes with having savings in the bank!
Personal budgeting is one of the only ways to truly gain control of your money and your financial future.
The benefits of personal budgeting:
Personal budgeting is one of the only ways to gain a thorough understanding of your financial situation.
Personal budgeting ensures that you live within your means, and provides a safety net for inevitable changes in life or when things go wrong.
Personal budgeting is key to accumulating savings and achieving your financial goals.
Personal budgeting is an effective method for paying down debts and avoiding debt in the future.
Thousands of people come to MyBudget every year seeking our support and advice about managing their money. Wouldn't it be great to see your financial future mapped out in front of you?
Expert help and support from people who care.
MyBudget strives to find the right solution for every individual. We look at your situation in detail and develop a customised, flexible budget plan that's specially designed to address your needs and priorities.
We also understand that the hardest part about budgeting is sticking to it. That's why we offer to do the legwork for you. We can manage your budget, pay your bills, save for you, and communicate with your creditors, if necessary.
"I had looked at a few different options to consolidate my debt and get it paid off more quickly... There are those debt consolidation loans where they lower the interest rate but you have a bad credit rating for years. So I looked for some other options. Joining MyBudget was the best financial choice I've made in my life."
"We had gone searching for solutions to our problem, and it seemed at that point the only solutions that were available to us were perhaps some sort of debt consolidation... MyBudget has taken our financial wellbeing into their hands and we now can see that we have actual savings that we can work with."
Rebecca & Andy, MyBudget clients
"We were really racking up our credit cards just to pay for the therapy we needed for our child.... I thought we were in too much debt, there's no way we're going to get out of it... It [joining MyBudget] was the best decision we ever made... We can see the light at the end of the tunnel now..."
Rebecca & Andy, MyBudget clients