A balance transfer
is not always

the answer.

A balance transfer isn't always the answer. Don't dream about paying off your credit card, make it a reality.

We'll take the time to explore your options with you.

When you're drowning in credit card debt, a balance transfer can feel like a lifeline - sometimes it is. But there are also lots of people who find themselves in even deeper financial trouble afterwards. Often this is because a balance transfer may buy you time, but it's no substitute for truly taking control of your finances.

What if you could relieve your financial stress without needing another credit card and fix the causes of your cash problems? We can assist with ensuring that you are not overusing your cards and focus on reducing the outstanding balances with the support of MyBudget. We will take the time to understand your situation in detail and explore your alternatives with you.

Book your free consultation today and find out how you could become a MyBudget success story.

Please call us on 1300 300 922
---
or
---
We can call you
Fill out the form below and we'll call when it suits you.

1

Call 1300 300 922 or Enquire Online
---

One of our friendly consultants will talk with you, confidentially, about your situation, answer your questions and book a free budget consultation for you.
Book your free consultation

Our personal budgeting specialists are highly-trained. They have a tertiary qualification in finance, such as a Certificate IV or Diploma of Finance and Mortgage Broking. They are also professionally trained in budgeting and debt management.

More importantly, they genuinely care.

They'll gather detailed information about your finances and create a customised budget plan to start achieving your goals.
3

Receive a customised budget plan - just for you
---
By the end of the consultation, you'll have deep insight into your financial situation, as well as a tailored budget that shows you how to achieve your goals.
There's no obligation to become a client. Your customised budget plan is yours to keep.
What are the benefits for a MyBudget client?
---
Total visibility of your finances at your fingertips 24/7 via our client website
A dynamic plan that works to pay your bills and loan repayments & pay off your debt
We do the legwork so you don't have to worry - your payments and obligations to creditors are prioritised, scheduled and paid on your behalf, using your income.
Support and guidance from our caring experts.
Much, much more.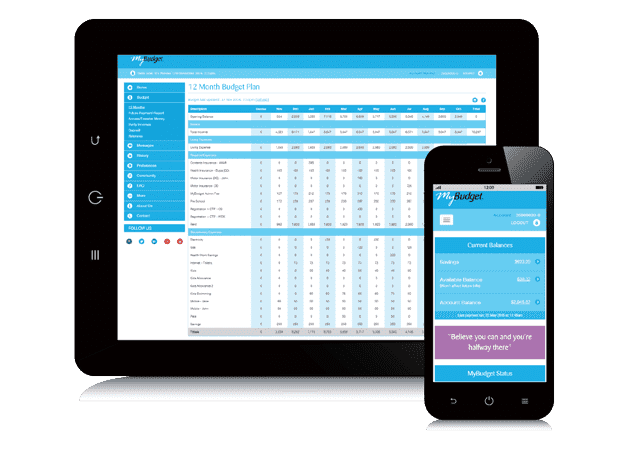 We analyse your situation and design a plan that achieves your goals.
Until you've examined your finances in detail, it's difficult to determine your exact financial position. At MyBudget, the budget plans we prepare are true long-range money management plans. The plan projects your finances over a 12-month period. So you have a clearer picture of what your future looks like, not just how your budget is week-to-week.
What will you do with your savings? Reduce your mortgage? Invest in shares? Take a holiday? Or simply enjoy the feeling of satisfaction that comes with having savings to fall back on.
Personal budgeting is the only way to truly gain control of your money and your financial future.
The benefits of personal budgeting:
Personal budgeting is the only way to gain a thorough understanding of your financial situation.
Personal budgeting ensures that you always live within your means, and provides a safety net for inevitable changes in life or when things go wrong.
Personal budgeting is the key to accumulating savings and achieving your financial goals.
Personal budgeting is one of the most effective methods for paying down debts and avoiding ongoing debt in the future.
Thousands of people come to MyBudget every year seeking our support and advice about managing their money. We can provide structure, support and guidance to help you get on track.
Get expert help from people who care.
MyBudget's strives to find a solution for every individual. Unlike an App or spreadsheet program, our experts create a plan that's specially designed to address your needs and priorities.
We also understand that the hardest part about budgeting is sticking to it. That's why we do the legwork for you. We can manage your budget, pay your bills, save for you, and communicate with your creditors, if necessary.

Succeeding is easier when you have a team of experts supporting you along the way!