If you want to live your life free from money worries, you've come to the right place. We've helped more than 100,000 Australians achieve their financial goals and helped them to live the stress-free, debt-free lives they dream about.
Step 1
---
It starts with a free customised budget plan
Book a free budget consultation with one of our caring money experts.
We'll go through your finances with you to create a detailed, customised budget plan that shows exactly what you can achieve with your money over the next 12-months and beyond.
No matter what your financial goals are, we can help you achieve them.
This customised budget plan is yours to keep or we can manage it for you.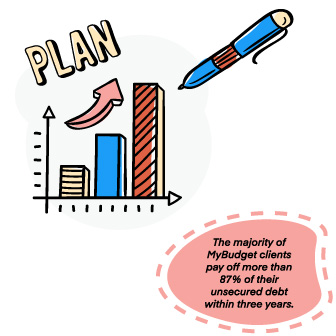 Step 2
---
We do all the work for you
A dedicated team member will set up your budget for you.
This is where you wave goodbye to the time and worry you used to spend thinking about money. Once your budget is set up, all of your bills, savings and payments will be managed directly from your MyBudget account.
Are you behind in payments? Or being chased by creditors? Don't worry. We can speak to them on your behalf and, in most cases, negotiate affordable payment arrangements that help you get back on track.
Step 3
---
Your bills paid on time and savings to fall back on
Money coming into your MyBudget account is automatically allocated into streams, such as holiday savings, living expenses, insurance, school fees, mortgage or rent, and so on.
Money for your budgeted living expenses is transferred into your personal bank account.
Your other bills and savings are paid directly from your budget, so you don't have to worry about a thing.
Meanwhile, you sit back and relax knowing your bills are paid on time and your savings are growing.
Step 4
---
Reach your financial goals faster
Adding a bill, moving money or making a change to your budget is easy.
With the MyBudget mobile app, all of our tools are at your fingertips and our caring money coaches are only ever a phone call or email away.
You sit back and relax knowing your bills are paid on time and your savings are growing.
You have everything you need to achieve your financial goals faster than you could on your own:
A budget plan that really works

A powerful system that gives you complete visibility and control over their money

And the caring support of money experts to do all the work for you
24/7 Access to Your Budget with the MyBudget App
---
Use the MyBudget App to view your budget from the convenience of your smartphone.
Download it for free to:

Check your budget at any time

View your projected savings

See your future payments and history

Submit changes to your budget

Send and receive secure messages

Receive client notifications

Snap My Bill— easily upload new bills and payments into your budget
​As for the secret to our clients' success…
---
The key to worry-free finances is having a proven system that works
That's what you get with MyBudget
More than a budget plan. You get a FREE fully customised 12-month money strategy based on your goals
Achieve your financial goals faster. Whatever your goals may be, our caring support and structure keeps you on track
Proven and trusted. We've been improving finances and lives across Australia for 20 years
Instead of hoping to achieve your financial goals or wishing your money worries would go away, get started by speaking with a MyBudget money expert today