Do it right and the upcoming Black Friday sales could save you money and boost your budget. Or do it wrong and you could end up eating baked beans on 'Broke Saturday.' That's why we've come up with a seven-point Black Friday Shopper's Game Plan!
Why is it on a Friday? And why is it black?
To understand where one of the biggest days on the world retail calendar comes from, you have to appreciate where it all began. Thanksgiving in the United States always falls on the fourth Thursday of November and Black Friday follows the day after. This year, Black Friday is on November 27.
As well as marking the beginning of America's Christmas shopping season, the day after Thanksgiving is a popular unofficial holiday. A lot of Americans take the Friday off so they can have a four-day weekend.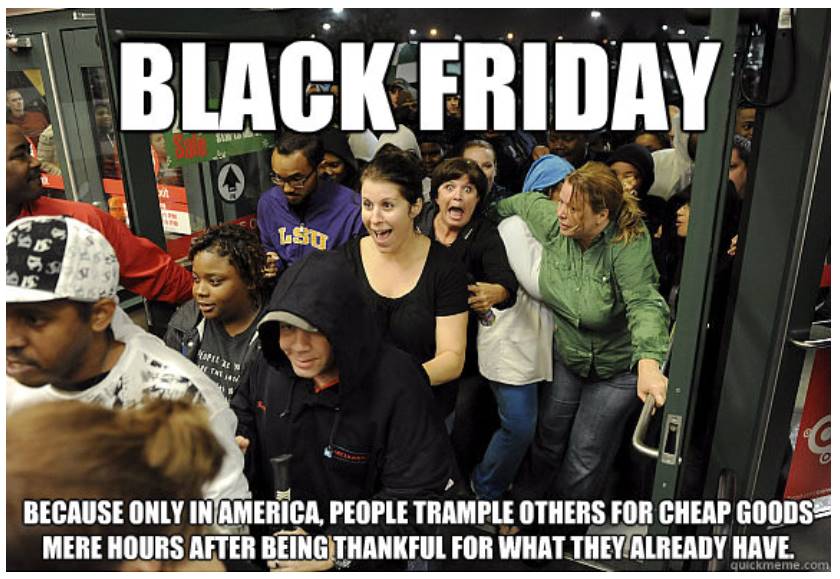 ​
Basically, Black Friday is the American equivalent of our post-Christmas Boxing Day sales. Because the best antidote for an overload of turkey and gratitude is a rough-and-tumble consumer frenzy, right? In fact. one suggestion is that police coined the term "Black Friday" to describe the public chaos it invokes.

In case Black Friday isn't enough, the weekend is then bookended by Cyber Monday. Whereas the focus of Black Friday is on elbow-to-elbow jostling at the shops, Cyber Monday is all about online deals. (In reality, most retailers run online and in-store sales simultaneously.)
Black Friday in Australia
Like many things American (eg. Lindsey Lohan), Black Friday has made it to Australian shores. But the numbers are a lot smaller here. Around 20 percent of Australians participate in Black Friday sales, compared with a staggering 70 percent in the US.
​
That being said, the popularity of Black Friday is predicted to increase with more and more big box retailers jumping on the bandwagon, including JB Hi-Fi, Kogan, eBay, Harvey Norman, Sephora, Amazon, and a lot of small retailers too.
One of the reasons that Black Friday is so popular is that it conveniently falls the week before December as people are switching into Christmas shopping mode. So, do it right and Black Friday could be the perfect time to cross off a lot of Christmas shopping. Or do it wrong, and you could fall victim to 'Buythagoras' Theorem:
​
That's why we've come up with the following seven-point game plan. Because there's nothing wrong with shopping—as long as your strategic about it!
Your Black Friday Shopper's Game Plan
1. Start with Christmas budget planning
Who are you going to buy Christmas presents for this year? Get like Santa and write their names on a list. Next to each person's name, write a dollar amount for how much you're going to spend on them. Add up the total. Can you afford it? (More specifically, can you afford it without selling a kidney or using your credit card?) If yes, great! If no, go back and adjust the amounts.
Use our Christmas budget template to help you plan your gift list and spending!
2. Then make a personal wish-list
If there's any money left over in your budget, make a wish-list of Black Friday bargains to buy for yourself. Alternatively, now is a good time to drop hints for Christmas, such as "Hey [insert loved one's name]. You know how for Christmas I'd really like [insert item name]? It's on sale this Friday!"
3. Do your research before Black Friday
Retailers have been known to put prices up during a sale because they know shoppers will be in a buying mood. The only way to know you're getting a genuine deal is to research prices before Black Friday begins.
4. Check the payment terms
Don't wait to get to the cash register to discover what your payment options are. Some retailers will limit payment methods on Black Friday deals. Others may allow you to layby, which can be a great way to lock in a discounted price for a small deposit.
5. Cash is still king
One way to know if there's wiggle room in the sale price is to ask what payment methods are available. If Afterpay or interest-free finance is accepted, you can be confident that the retailer is paying around five percent commission to a finance company. Don't be afraid to ask for a cash discount.
6. Check return and refund policies
Some stores have special policies during promotions, such as "sale items are final—no exchange or refund." If you're not sure that the item will be the right fit, size or colour, you want to know that you can swap it or get a refund or credit.
7. Know what the Aussie Dollar is worth
If you plan to shop online at overseas stores, don't forget to factor in the cost of shipping and the currency exchange rate. At the time of writing, the Aussie Dollar is buying just 68 US cents. It really adds up—$100 USD works out to around $146 AUD. For up to date exchange rates, go to www.xe.com
​