How growing up with a disabled sibling changed me
Many things have shaped the woman I am today, including growing up with a disabled sibling. I learn so much from my brother and I am so elated to be able to offer MyBudget to families accessing NDIS in similar situations to mine.
Meet my brother: Josh
I am the oldest of four siblings, two sisters, Kelly, Lisa-Marie and my younger brother Josh, who has a condition called Angelman Syndrome. It's a rare genetic disorder which causes delayed development, issues with speech and balance, intellectual disability, and in some cases, seizures.
People with Angelman Syndrome are known to have happy, bubbly personalities and frequently smile and laugh – it was once nicknamed the 'happy puppet syndrome' because of their sunny outlook and jerky movements. Even though Josh can't speak and finds it difficult to communicate with us, you can see his own unique personality shining through. He's cheeky, loves his family, loves his food but doesn't understand animals at all. He has matured so much now in his 30s from the mischievous child he once was.
What's it like growing up with a sibling with a disability?
I'm not going to sugarcoat it. Growing up with Josh was hard. My life was not like anyone else's that I knew. We couldn't go out at all as a family. It was too difficult. Josh would steal peoples' food, run off without a care in the world, climb out the car window if it was left down. Our gates were roped shut (a normal lock wouldn't suffice!), our fridges and pantry were locked, we had to give our dog away, we never went out for dinner (or anywhere), never even dreamt of going on a holiday. I have that many stories, some funny and some quite sad.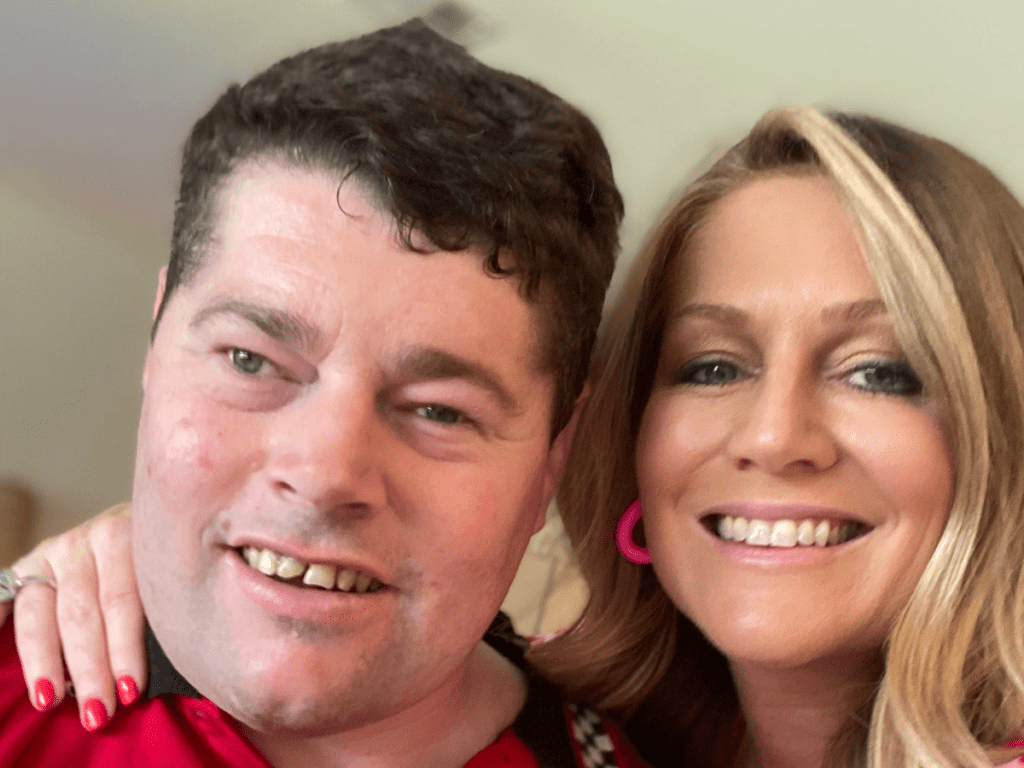 But when I look back on my life today, I feel grateful for having grown up with a brother who has Angelman Syndrome. Despite facing various difficult situations with Josh, the journey has taught me to be strong, resilient, and determined. More importantly, it has taught me to be grateful for what we have and to realise that most of our worries are insignificant. I wouldn't be the person I am today without those challenging experiences.
My children are now learning the same valuable lessons from Josh. Every fortnight, he comes to our house for dinner, which brings our entire family closer. Having Josh come home, my kids can see first-hand the challenges of having a family member with a severe disability and learn to appreciate their own lives that muchmore.
MyBudget is partnering with NDIS
The NDIS has literally been life changing for Josh. I am so glad MyBudget can help other families through the NDIS program. It's been a long journey to make this partnership a success, but now we can provide our services to those who qualify under the NDIS scheme.
The NDIS is now supporting those who are eligible and currently receiving disability support from the NDIS to receive MyBudget's budgeting services. This can create major financial empowerment for those living on support, as they can now set goals based on their current income.
MyBudget has helped over 130,000 Australians live their lives free from money worries, and we're excited to be able to extend this further by partnering with NDIS. We've seen first-hand just how much household stress can be lifted by having a meaningful budget in place. As we know, Australia is currently in a state of economic uncertainty due to the Reserve Bank of Australia (RBA) looking to curve the rise of inflation with continuous interest rate rises. According to data from The Australian National University (ANU), one in four Australians are finding it difficult to get by on their current income.
MyBudget client and NDIS participant Jake said, "being an adult on the Autism Spectrum makes it harder for me for day-to-day living. I was always financially stressed. NDIS first asked me what goals I could put in place. I told them that I would like to be financially independent, save for a house and to have some extra money in an account for a 'rainy day'. Another goal of mine was to be able to socialise and be able to do activities outside the house. When I first started with MyBudget, the team gave me the opportunity to sit down and look at my expenses. They helped me create a plan that has helped me pay my bills on time while also saving money for a 'rainy day' and to have additional money for activities like cinemas and going to the gym to better motivate my mental health."
Since joining MyBudget, I have paid off my car three years early and have saved $20,000 for a house deposit. I have not looked back! MyBudget made the entire process really easy. I am so excited to be working towards my NDIS goals.
What is NDIS?
The NDIS is the National Disability Insurance Scheme in Australia that supports over 500,000 Australians and permanent residents. They provide support for everyday activities, access requirements, social services, intervention services, mobility equipment, and medical treatment.
It provides funding to help those living with a disability to be able to achieve more independence and access new skills, activities or jobs in their community. It aims to improve quality of life through funding programs and service connections to assist those that need it.
Doctors, community groups, sporting clubs, support groups, libraries and schools, and now budgeting services through MyBudget. Through accessing MyBudget's services, people living under the NDIS scheme will be able to manage their finances and potentially increase their personal financial stability.
With no previously existing system, the NDIS began in 2013 with the aim of providing those living with permanent disabilities with essential services to improve their overall quality of life. Around 4.3 million people live with a disability in Australia, and most do not receive any financial or service support from the government.
What this partnership means to my family
The MyBudget / NDIS Service provider journey has been in the works for a very long time. We've partnered with Participants, carers, local area coordinators (LACs), support coordinators and plan managers to make it easier for Participants to become financially healthy. There's a lot of red tape to cut through to create accessibility, especially in business. This partnership means that people like my brother will now be eligible to receive the services provided by MyBudget through their NDIS, empowering them to take control of their spending and set goals.
MyBudget aims to support NDIS Participants by providing the freedom to manage their personal budget and daily money management, delivering peace of mind to live their daily lives, participate within the community and achieve their financial goals.
MyBudget has helped over 130,000 Australians live their lives free from money worries and we're very excited about this new journey to extend our services with our new NDIS partnership. To learn more, please visit our NDIS page or give our friendly team a call on 1300 300 922.
This article has been prepared for information purposes only, and does not constitute personal financial advice. The information has been prepared without taking into account your personal objectives, financial situation or needs. Before acting on any information in this article you should consider the appropriateness of the information having regard to your objectives, financial situation and needs.