12 DIY home security tips: How to prevent theft
Did you know: Australia has the 7th highest rate of burglaries in the world? That's scary! And with all of these fancy home security systems available, while they certainly help, they can also be quite expensive. To avoid these rising security monitoring costs, it's time to look at some DIY home security ideas to keep your home burglar-free.
Burglaries are scary experiences. Although it might seem like a chore now, taking advantage of home security tips can be the difference between a normal day and a trip to the police station.
Why home security is important
Your everyday household items are financial assets and contribute to your home's overall net value. We may not often realise just how much value is sitting unprotected in our living rooms but when you do the maths (TV, sound system, consoles, furniture, collections, etc.), it quickly adds up—and that's just one room!
According to The Australian Bureau of Statistics, as of December 2020, the average total property household assets in Australia stood at $731,100, which is an 11.84% increase from December 2019's $653,700. It's not uncommon to underestimate the value of household items or how this continues to grow when we buy a new fridge or our prized collections increase in value year after year.
12 DIY home security ideas
Each house is a potential gold mine to burglars. These DIY home security ideas will help you to secure your home for less. You won't need a contractor or fancy security system, it's all about being savvy and staying one step ahead of the thieves.
Home security tip #1: Lock your doors, windows and gates
This security monitoring tip may seem a bit obvious but when talking about cheap DIY home security ideas, it doesn't cost a cent to remember to lock your doors and windows. Police remind us that a significant number of thieves break in without doing any breaking.
According to a recent survey, an average of 91.27% of Australians lock their doors and windows but only 60.08% lock their gates. Being sure to also remember this will ultimately reduce the amount of break-in attempts.
Home security tip #2: Install a door peephole and reinforce your door locks
If we're thinking about DIY home security ideas, then we can't go past some of the most basic theft prevention methods. A door peephole can be bought at any hardware store with change taken straight from the piggy bank. And if you're wondering how to install a door peephole, it's quite simple and should only take you a few minutes.
Reinforcing your door locks with door jambs and deadbolts can also prevent potential burglars from applying force and breaking into your home. Once again, these can be bought at any hardware store and installing them simply requires a drill kit.
Home security tip #3: Lock the shed as well
In addition to your doors, windows and gates, also be sure to lock your shed to keep your tools and equipment safe. With 39.92% of Australians forgetting to lock their gates, leaving your shed unlocked in the backyard is an easy target.
Good tools and garden maintenance equipment cost a lot of money, so you'll want to keep them locked away safely.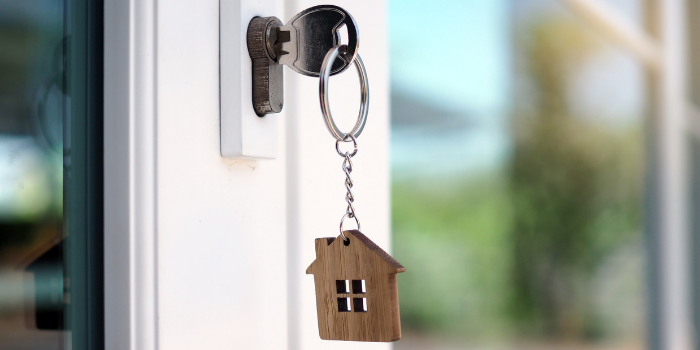 Home security tip #4: Get involved in your local Neighbourhood Watch
According to the same survey as above, only 22% of Australians knew about the local Neighbourhood Watch program in their area. This program helps to keep communities safe and it doesn't cost a single dollar to contribute.
Speaking of neighbourhoods, it's important that we all look out for and help each other, especially during holidays. You can help by collecting each other's mail, mowing the lawn, etc.
Home security tip #5: Apps that prevent burglary
Let's get tech savvy! Mobile phones are a necessity nowadays and lately, there's an app for everything!
Available on iOS and Android devices, Nextdoor allows users to connect with their local neighbourhood to "greet newcomers, exchange recommendations, and read the latest local news". You can join some local community Facebook groups, too!
And what about that drawer dedicated to old phones and tablets? Lexis Cam turns your old Android devices into motion detecting security cameras, saving videos to the cloud via DropBox. Set up a few charging docks around the house and just like that, your house has 24-hour security monitoring.
Lastly, you can even turn your doorbell into a security camera with a Ring doorbell. These devices act as standard doorbells but with the added bonus of being able to see, hear and speak to visitors even when you're not at home. You'll get alerts on your phone with its advanced motion settings (useful if someone is trying to knick a package left on your welcome mat) and colour night vision for unwelcome lurkers after the sun has set.
Live your life
free
from money worries
Create your own budget plan designed to help you live the life you want
Home security tip #6: Pretend you have protection
Want to really dig for DIY home security ideas? The best way to secure your home for no extra cost is to pretend you have a dog, camera or security system. "Beware of the dog" signs, fake security cameras and security company signage are all good preventative devices.
It doesn't matter if you don't have a dog or an alarm—it tells would-be crooks to try elsewhere.
Home security tip #7: Get a guard dog
What's better than pretending to have a dog? Well that's getting one, of course!
Not only will they be your furry best friend, dogs are very territorial animals and will bark and howl at the first sign of danger. With their excellent hearing, they'll be able to hear a burglar coming from a mile away!
That and they're adorable, let's be honest. But remember, be sure to factor it in the budget. Check out our guide here.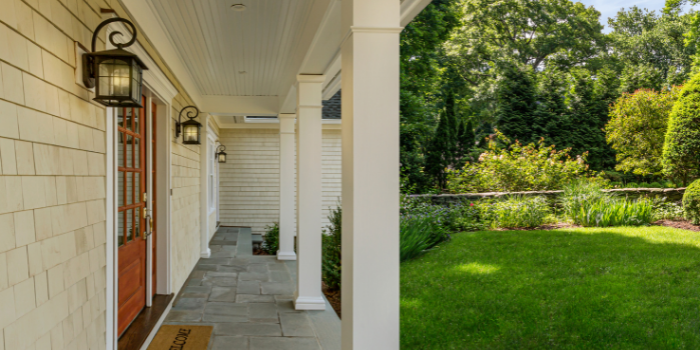 Home security tip #8: Let there be light
Outdoor lighting is an excellent way to deter unwanted night-time activity around your home. Motion-activated lights and other outdoor lighting make it difficult for people to sneak around unseen. If you're away, use a timer control to activate lamps inside your home—it makes the house look lived in.
Bunnings always have a wide variety of security sensor lights that won't cost you an arm and a leg.
Home security tip #9: Tidy up the garden
This is one of the easiest DIY home security ideas on this security monitoring list. DIY gardening and trimming back trees and bushes reduces any plants that might shield or assist a thief to enter your home.
A well looked after garden also shows that you take pride in your home and can deter burglars from thinking you're an easy target. If the outside of your house is neat and tidy, then there's less places for burglars to hide and it shows you are organised and prepared for anything.
Home security tip #10: Store smaller items out of sight
Jewellery, cash, handbags, laptops, phones and iPads should never be left where they can be easily grabbed. Valuables should be kept out of sight and marked with your driver's license number using an engraver or ultraviolet pen.
Studies have shown that burglars first and foremost take personal and smaller items that are light and quick to grab. Perhaps consider a safe tucked away to keep your valuables out of sight.
Home security tip #11: keep your spare key safe
We all know the cliché of leaving a key underneath the door mat and so do potential thieves. The idea of a spare key is so you can get back into your house if you forget your original set but you don't want to be making the burglars' job any easier.
If you're going to have a spare key, consider leaving it with someone you trust, like a family member or close friend who lives nearby.
Home security tip #12: Be careful what you post on social media
Flaunting new expensive purchases or announcing travel plans on social media may seem like harmless fun but in reality, you may be painting a target on your house.
While you may be able to vouch for most of your friends and family, content is easily shareable and can wind up being seen by the wrong people.
We hope you're feeling safer with these DIY home security ideas. If you're still wanting to look at some of the more costly solutions and need help with money management, enquire online or call us on 1300 300 922 for your free initial consultation.
Call 1300 300 922 or get started today
This article has been prepared for information purposes only, and does not constitute personal financial advice. The information has been prepared without taking into account your personal objectives, financial situation or needs. Before acting on any information in this article you should consider the appropriateness of the information having regard to your objectives, financial situation and needs.