10 budget home improvements for every room in your home
Dreaming of giving your home a makeover but daunted by the cost? By making the most of our budget home improvements and starting with big-impact, low-cost projects, you'll be amazed at how easy it is to refresh your nest without blowing your savings.
Whether you're spending lots of time at home, or want to come home each evening to a space that feels more like a sanctuary than a sharehouse, these 10 simple budget home improvements prove that revamping your space doesn't have to cost a lot of money.
Pick up a paintbrush
Every good budget home makeover starts with a fresh coat of paint. A lick of paint can have an immediate impact on the aesthetics of your interior or tired timber cabinets (have a look on Pinterest for inspiration).
Small space? You can easily make a small room look bigger with paint with this clever trick: paint the walls, trim and ceiling slightly different shades of the same colour and you'll find that the room's boundaries seem to disappear, creating an instant illusion of space. Start with the darkest shade on your walls, and finish with the lightest on the ceiling.
Before you commit to a colour, pick up a sample pot in each hue you're considering, and apply the paint in a couple of different spots around the room. This way, you'll get a really good feel for how each colour is going to look in shadowed areas, as well as direct sunlight.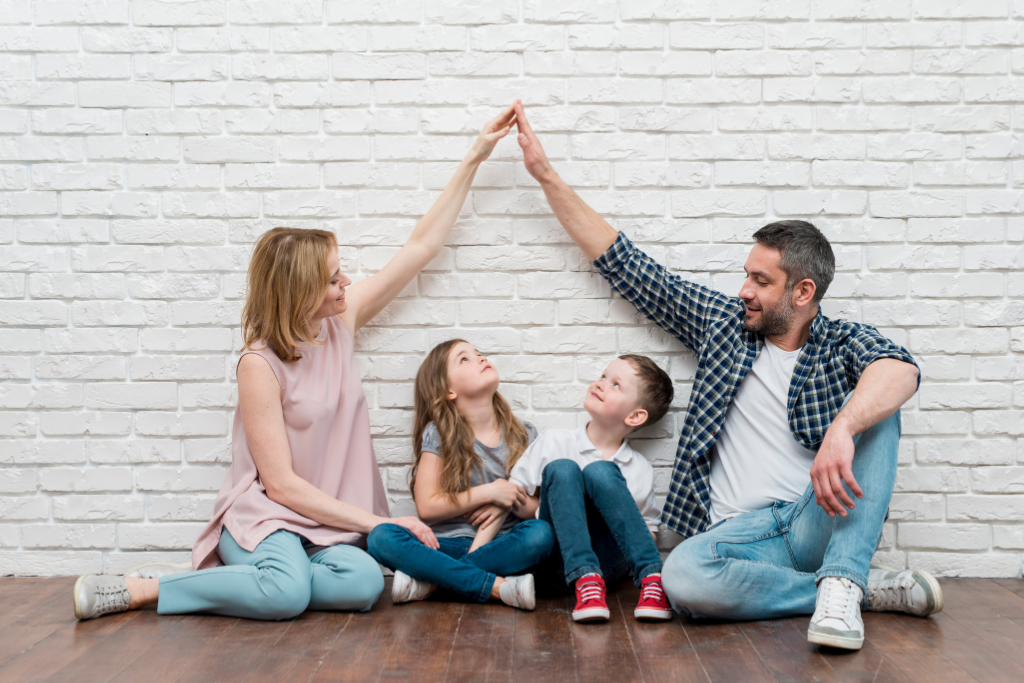 Change up your curtains
Does your house still have the same curtains from when you moved in? Ditch those dated venetians asap! For a low-cost modern aesthetic, choose a neutral colour like grey (or sheer white if suitable for the room) and pair with a matte black curtain rail.
If your room is on the squeezy side and you're looking for curtains that make a room look bigger, choose hues that sit on the light end of the colour spectrum, like light neutrals and soft blues. If your home has lower ceilings, hang the curtain rail as close to the ceiling as you can to give the illusion of greater height (just make sure you get curtains that extend down to the floor – it's key to measure your space before you go shopping!)
Replace your hardware or customise your flatpack furniture
Shiny new handles on your kitchen or bathroom cabinetry is an affordable way to instantly change the feel of the space. For a traditional look, consider black hardware made from solid cast iron; for a more modern feel, choose a metal finish like brushed brass, bronze or gunmetal.
You can even use this idea to spruce up old furniture: unscrew the basic brass or wooden handles on the drawers of your bedside tables or kitchen hutch and replace them with eclectic options for a more bespoke or bohemian look.
It also pays to think outside of the box. If you're wanting a designer look but don't want the designer price-tag, then have a think about ways in which you can customise your flat-pack furniture. Check out LuxHax, where you can purchase affordable overlay panels that help to achieve bespoke, designer looks on a flat-pack budget.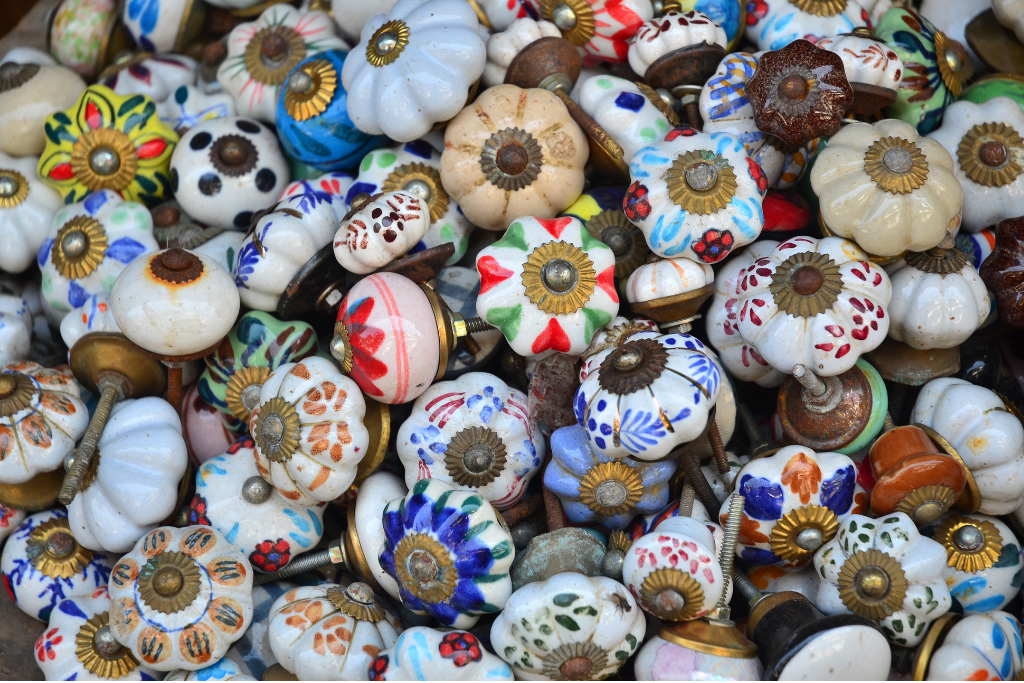 Replace your lightbulbs
On top of saving electricity, using the right kind of light bulb can drastically change the light in a room. Anything over 5000K is considered 'cool' and will emit a blue-ish light, which will help to mimic natural light in rooms where windows are lacking. A rating between 2700-3000K is 'warm' and will give you a yellow-ish glow, which will instantly make your room feel more cosy.
If you've got a bit more cash to splash, consider calling an electrician to replace any outdated ceiling lights with dimmable energy efficient downlights for a sustainable yet stylish look.
Make your room bigger with a mirror
We can't talk about budget home improvements and not mention mirrors. A strategically placed mirror will reflect and bounce light around the room, helping to make your space seem double the size. Try leaning a large mirror against a wall – it'll create the impression that the room is expanding and opening up at head height.
You'll also find that many older bathrooms will look completely different simply by replacing the existing mirror or medicine cabinet with a more modern option.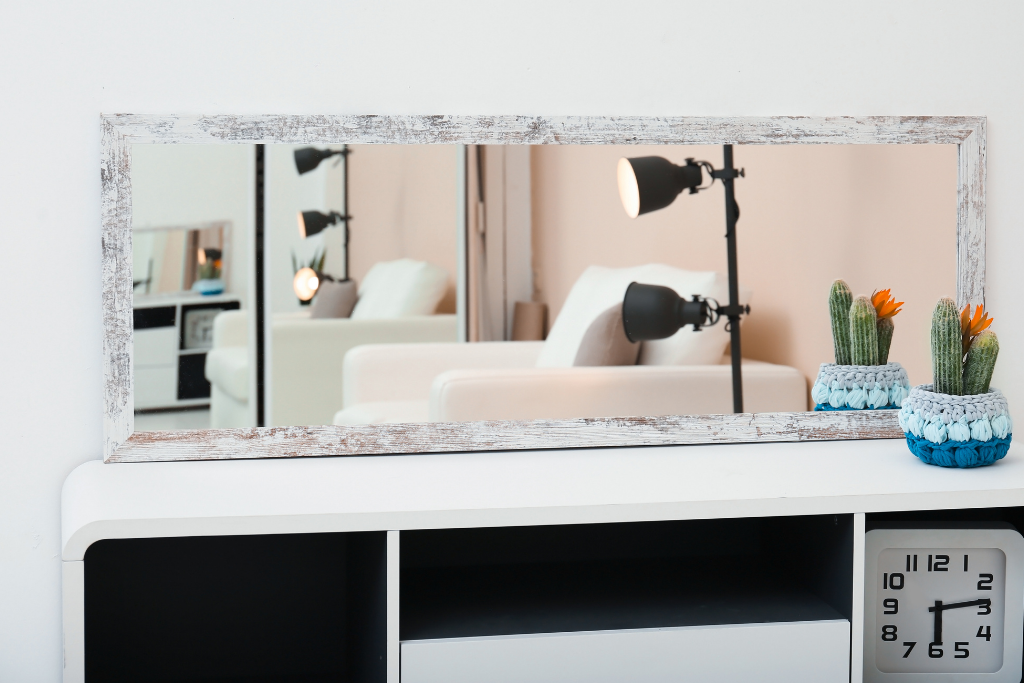 Embrace wallpaper
Quick, inexpensive and easy to DIY, wallpaper injects life and texture into walls, instantly transforming a blank canvas into a personal statement.
When it comes to DIY wallpaper, you'll want to choose a paste-the-wall wallpaper rather than paste-the-paper – this new technology means that anyone can confidently install wallpaper in their own home.
You might like to try a geometric wallpaper to draw attention to your home's architectural features, like moulding, trim and panels, or use a punchy pattern to cover the back of cabinets and bookcases, on top of shelves or inside dish drawers. If you have a timber staircase, wallpapering the vertical risers of the steps is one of our favourite quick budget home improvements ideas.
Live your life
free
from money worries
Start today with a FREE no obligation appointment
And contrary to popular belief, you can use wallpaper in wet areas like the kitchen and bathroom – but always choose something that's water-resistant.
Get crafty
Kids' room or playroom looking more beige and boring than bright and beautiful? Stencils and wall stickers are an affordable way to add a customised look that can be easily changed or removed as your child grows. Both stencils and decals are also great for defining space in a shared room.
You may like to choose a decal that sets out a scene, like a flowering tree or a Noah's ark, or use individual decals to spell out your child's name. If you'd rather create a design using paint, you can either hand draw a design on the wall or buy a premade stencil.
Create a gallery wall
Artwork is one of the easiest (and fun!) ways to elevate a space, and you can absolutely do this on a budget. Find a calendar with illustrations that speak to you (buy these in February for super cheap), and grab some frames of different sizes from Kmart or IKEA and create a gallery wall of prints and personal photographs.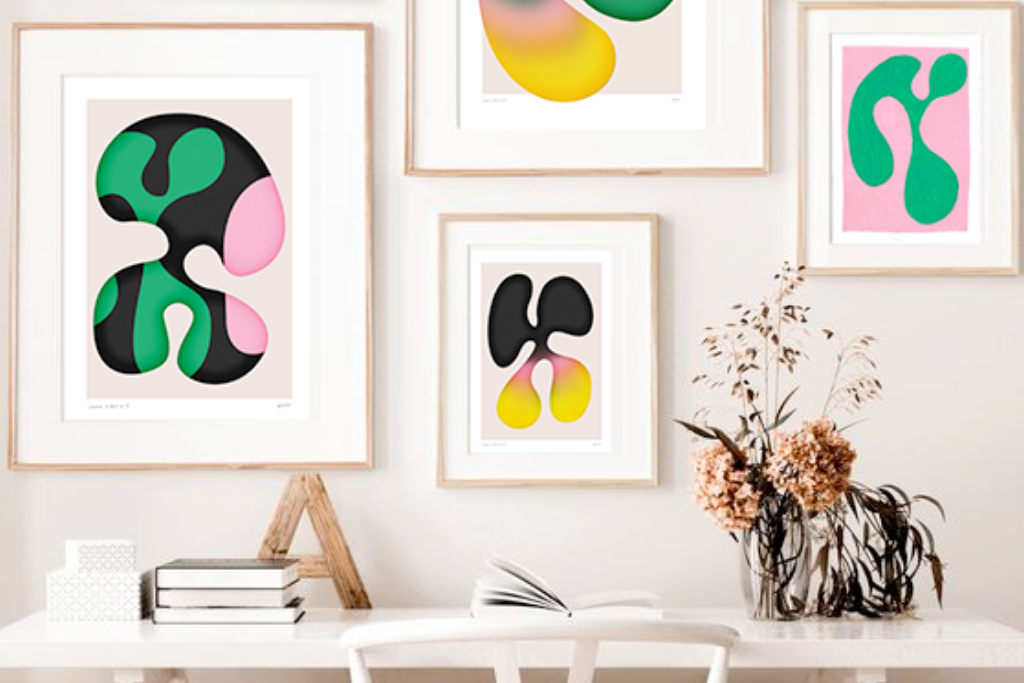 Treat yourself to new "tiles"
Has your bathroom floor seen better days? If marble tiles are outside your budget, there's two ways to mimic a luxe look for less:
Peel-and-stick vinyl floor tiles. These beauties are waterproof, easy to clean and incredibly easy to DIY – simply peel, place on top of your existing tiles and you can walk on them immediately.
Spray your existing tiles with epoxy resin paint, which bonds to tiles surfaces and creates a finish that mimics ceramic.
You'll find peel-and-stick vinyl floor tiles at Bunnings, and epoxy paint at any good hardware store.
Accessorise, accessorise
Never underestimate the power of accessories to elevate a room from meh to magnificent. You only need one on-trend or splurge item amongst vintage or budget buys to recreate your dream aesthetic.
Try some of these for an instant budget home improvements:
In the bathroom: Splurge on good quality towels and linens, large scale foliage in sculptural pots and a few scented candles
In the kitchen: Splurge on a few items within your chosen palette of colours, such as a retro blender, bright tableware or patterned cushions (to match your freshly painted chairs, of course). This will help to create a cohesive colour scheme and anchor the whole look together.
In the bedroom: Splurge on tactile textures to up the cosy factor, like a jute rug beside the bed, layered cushions in tactile fabrics like velvet and faux fur, and a chunky woollen rug thrown over linen sheets.
Pinterest is a great source of inspiration for cheap remodelling ideas. It's great at helping you work out what colours, styles and finishes you like, and how they can be incorporated into a room without having to break the bank.
When it comes to budget home improvements, small changes can make a big impact, so don't stress if you don't have a huge budget. Prioritise the spaces you spend the most time and pick projects that fit your finances.
If you need help budgeting for your home improvement projects, our budgeting experts at MyBudget can show you how to budget and save for your personal goals. Call us today at 1300 300 922 or enquire online for a free consultation.
Call 1300 300 922 or get started today
This article has been prepared for information purposes only, and does not constitute personal financial advice. The information has been prepared without taking into account your personal objectives, financial situation or needs. Before acting on any information in this article you should consider the appropriateness of the information having regard to your objectives, financial situation and needs.