Saving for a car? The ticket price is just the beginning. The costs of buying a car are much higher than you think, especially when you factor in the other on-road costs associated with buying and using a car. On-road costs and running expenses quickly add up. We've crunched the numbers on an average used car and discovered that on-road costs and first-year running costs equal around half the car's value! Here's what you need to know about the cost of buying a car.
Sara is saving for a car
For our research into the costs of buying a car, we created a fictional case study. Sara is 25 years old, living in Melbourne, and in the market for a 2017 Mazda 2. But can Sara afford it? She's about to get a crash course in the real cost of buying a car.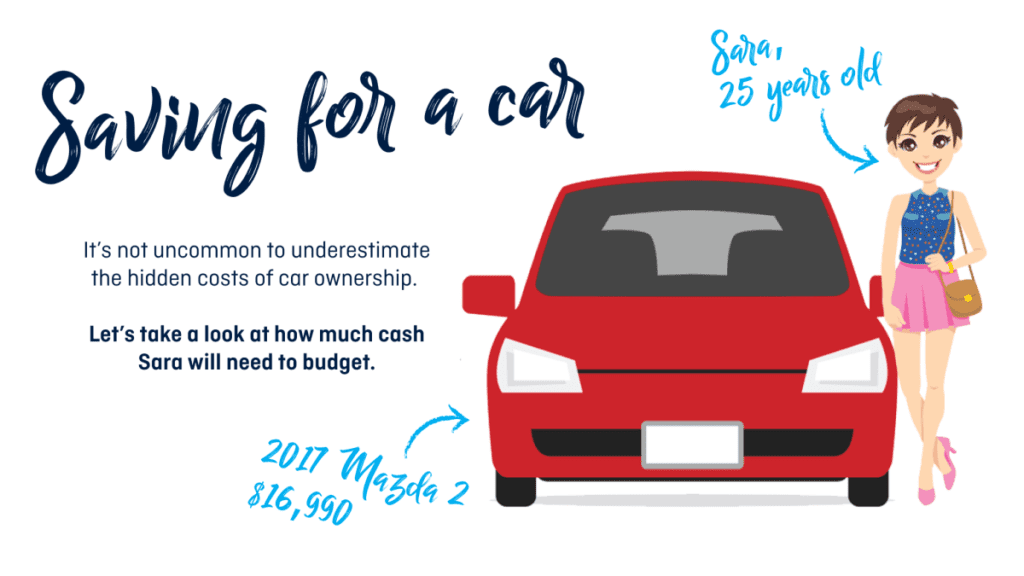 On-road costs
Before Sara starts driving her new wheels, she's going to have to spend nearly $3000 on on-road costs. Our calculations include:
CTP insurance provides financial protection for the car driver against injuries caused to third parties in an accident. It does not insure the vehicle against damage. To insure the vehicle, Sara is opting for a comprehensive car insurance policy.
As you can see, on-road costs can quickly add up and catch buyers off-guard, as they typically aren't the first thing that comes to mind when considering the cost of buying a car.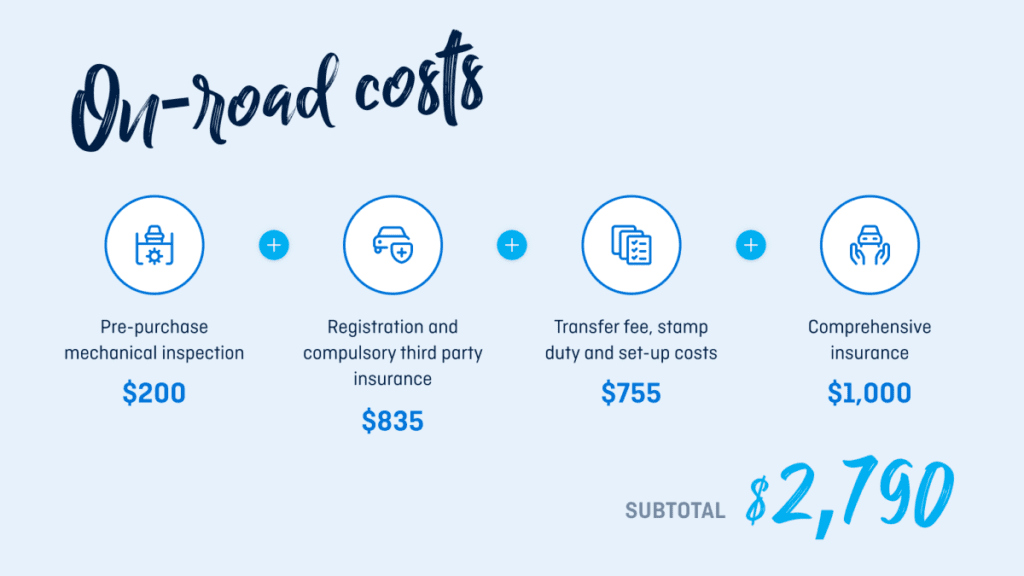 Annual running costs
Next, Sara will need to budget around $2,300 for first-year running costs. Using RACV data, we've factored in:
Roadside assistance ($114)
Fuel ($1127)
Servicing ($927)
Tyres ($104)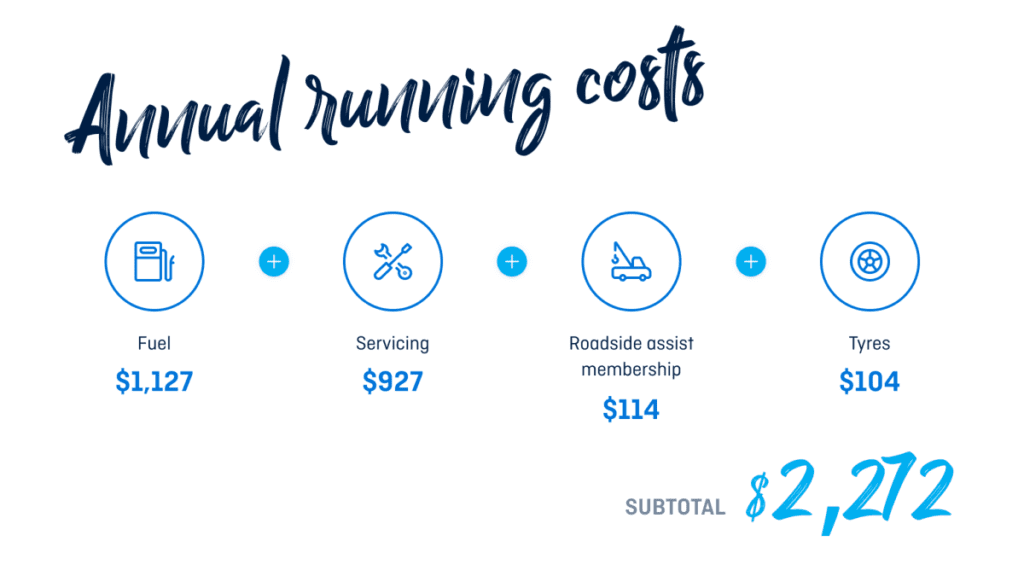 What about a car loan?
If Sara needs a car loan, she'll also need to budget for the cost of repayments. If she needs to borrow $15,000, the monthly repayment will be about $300 a month or $3546 a year (calculated at 7.15% interest rate over 5 years.)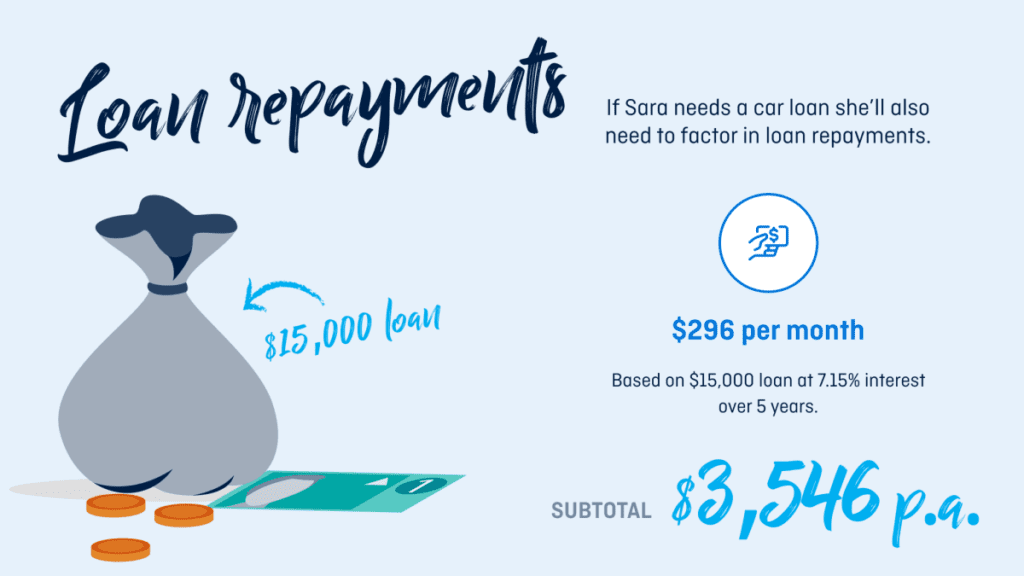 Grand total
For Sara, all of this adds up to a whopping $8,608 in on-road costs and first-year running cost of buying a car Luckily, Sara has MyBudget to help her factor this into her budget affordably. Money for future bills and expenses is set aside from Sara's pay so there are no surprises!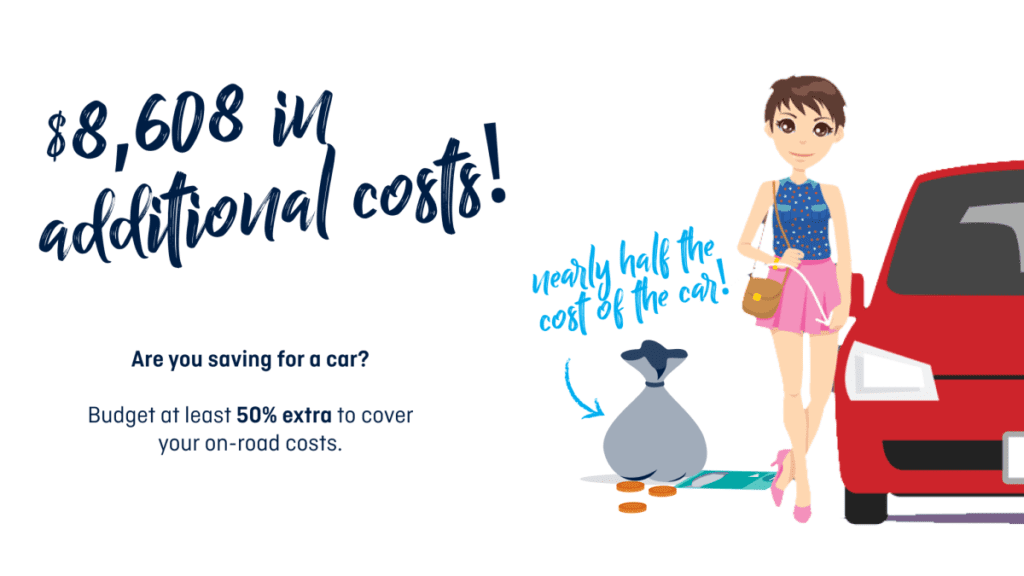 MyBudget can help you save for a car, get a car loan and pay off your car loan quicker.
We have people ask us all the time "How much should I spend on a car" and "What's the best way to save money for a car?". The answer to these questions will depend on your individual needs and circumstances.
If you liked this rundown of the cost of buying a car, you'll love our other money-saving ideas, subscribe to the MyBudget Blog or follow us on Facebook for more!
For further advice on car purchases or to have a one-on-one chat about your next car purchase, call 1300 300 922 to book your free budget consultation or enquire online.
This article has been prepared for information purposes only, and does not constitute personal financial advice. The information has been prepared without taking into account your personal objectives, financial situation or needs. Before acting on any information in this article you should consider the appropriateness of the information having regard to your objectives, financial situation and needs.