Not sure how to gamble responsibly?
Every year on the first Tuesday of November, Australians everywhere stop to watch the Melbourne Cup. What does this event mean for a gambling nation though, and do Australians know how to gamble responsibly?
In this article, we cover common questions you might have like: "What is responsible gambling?", "What is gambling addiction?" and "What are signs of a gambling problem?. Ultimately, we reflect on what it means to live in a gambling nation and if 'responsible gambling' is really a thing.
How to gamble responsibly in a gambling nation
Every year November rolls around and it usually means one thing: the Melbourne Cup has arrived. The hubby and I have been known to rendezvous at the local bowls club on Cup Day. We order a beer, place a $10 bet each-way and watch the big race on the big screen. It feels like the Australian thing to do.
Australians will collectively gamble more than $100 million on the "horse race that stops a nation." But what makes this more extraordinary is that Melbourne Cup wagers are a drop in the gambling ocean. ​Are these the signs of a gambling problem?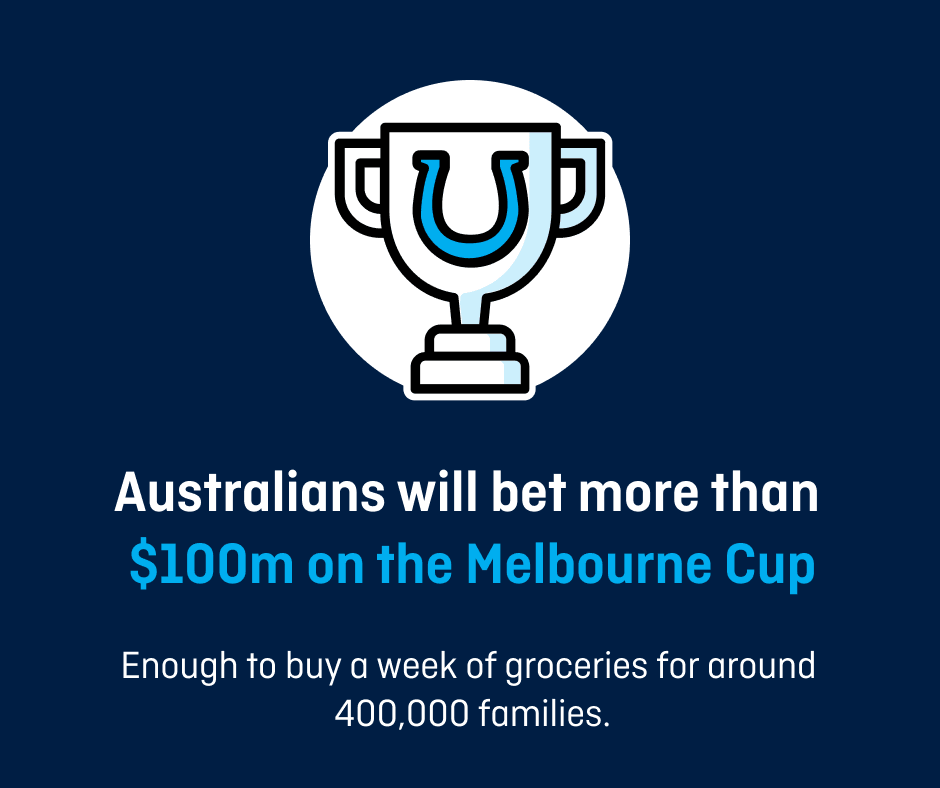 Australia wins at gambling losses
According to The Economist, Australia was the first country in the world to deregulate gambling and it shows. The most recent gambling data (2017-2018) reveal that Australians wager a whopping $25 billion a year. This is a massive figure for a relatively small population.
In terms of gambling losses per capita, Australia has no equal. At nearly $1300 per person, we're losing at nearly twice the per capita rate of the United States and 50% more than second-placed Singapore. These are clear signs of a gambling problem in Australia and highlights that our nation needs more information on how to gamble responsibly.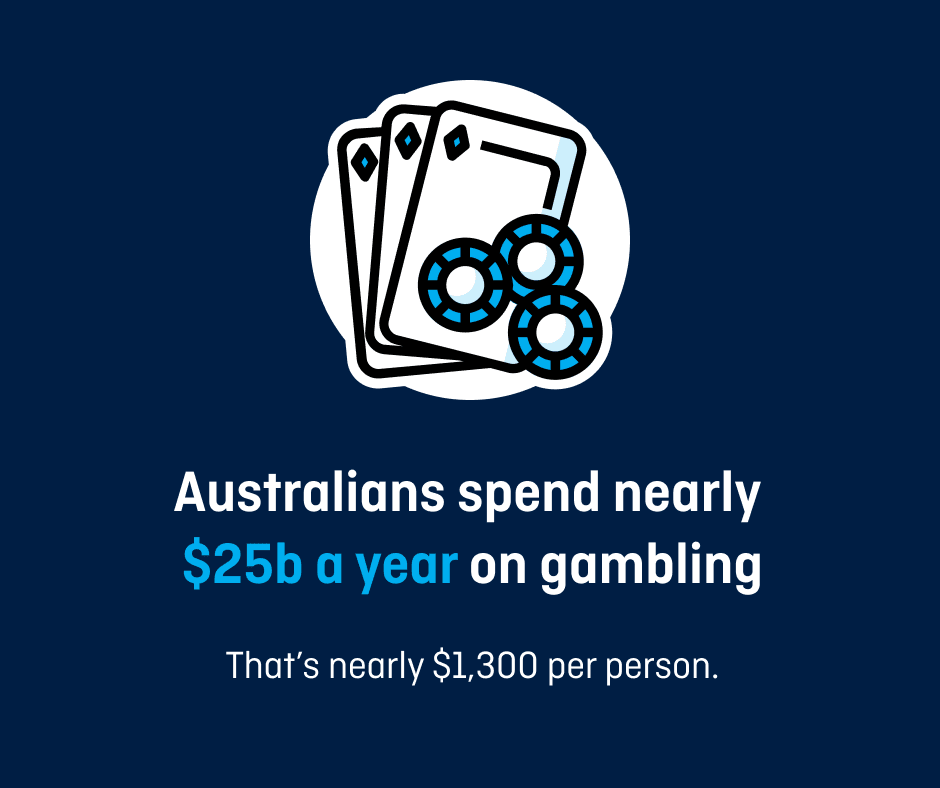 Pokies are the biggest bandit
The first thing you see when you walk through the front door of the bowls club is the gaming room. Hiding in plain sight is the biggest bandit in Australia: poker machines. The room is semi-enclosed, as per the law, but constant jackpot noises emanate, like a siren song to passersby.
According to The Australia Institute, Australia has 0.3% of the world's population, but 2.5% of the world's gaming machines. Most of them are in suburban pubs and clubs.
It's this accessibility that helps to explain why pokies now account for more than half of Australia's gambling expenditure. Aussies feed a massive $12.52 billion into the machines every year.
Experts say that poker machines are designed to be stress-relieving and addictive, and they are. Around 15% of pokie users who play regularly identify themselves as showing signs of a gambling problem.
But it's not only the players who are addicted. Australian state governments take in around $5.5 billion a year in poker machine taxes.​ If you're wondering "What is responsible gambling?", it probably doesn't involve pokies.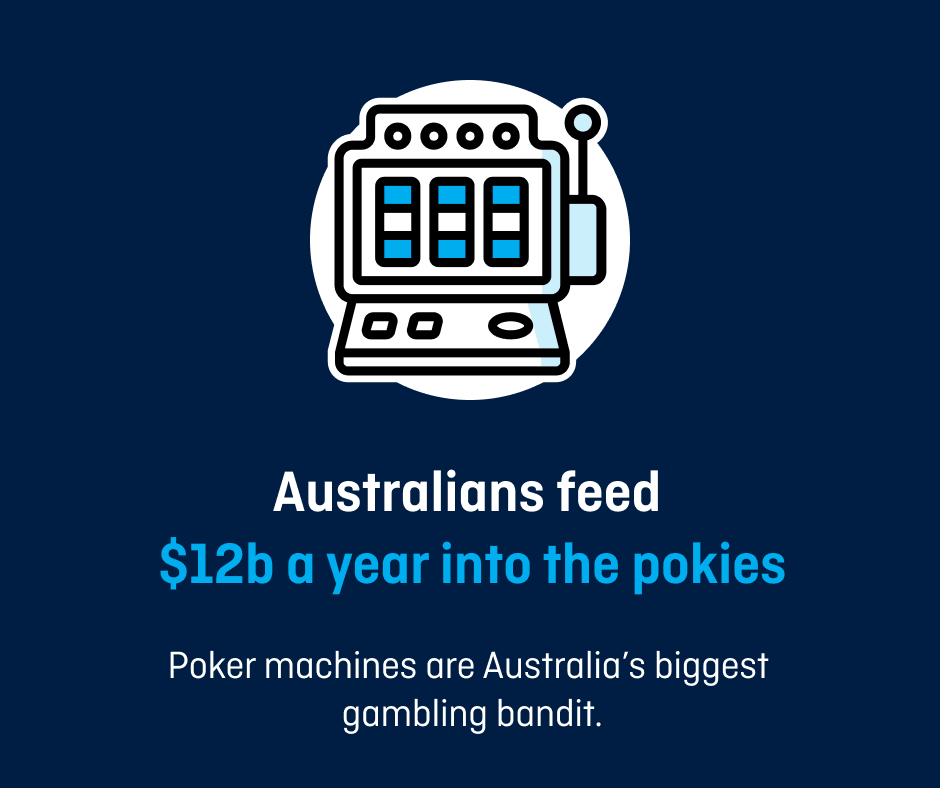 Gambling culture begins at home
Signs of a gambling problem can appear from a young age. I was driving my nine-year-old son to music practice when out of the blue he asked me, "Mum, what's your favourite betting app?" What's my favourite what? "What app do you use on your phone when you want to bet?" he elaborated.
This is a kid whose parents gamble once a year on the Melbourne Cup. Admittedly, it's the same kid who loves watching football and cricket on TV. As such, he's been pretty heavily exposed to sports betting ads.
If the playing field isn't plastered in betting app logos, every ad break has a gambling message. At half-time, a fairly likeable fellow explains the latest "multi-bet bonus" or some other promotion. I mean, why wouldn't a 9-year-old assume that every Australian has a favourite betting app?
Live your life
free
from money worries
Create your own budget plan designed to help you live the life you want
What is responsible gambling?
Of course, for most people, placing a bet on the Melbourne Cup is harmless fun. But for hundreds of thousands of Australians and their families and communities, gambling is a serious problem.
The billions of dollars spent on gambling are billions missing from household budgets and local economies. In fact, some argue it's a national health crisis demanding a royal commission.
In the meantime, gambling ads remind us to "gamble responsibly." But what is responsible gambling?
Experts say that responsible gambling has four main factors:
Gambling within limits (mostly money, but also other resources such as time)
Exercising control over gambling
Gambling in a way that causes no harm to the gambler or others
Gambling for entertainment rather than to win money
'Ensuring gambling expenditure is affordable' is considered the most important category of these behaviours.
Signs of a gambling problem
In terms of self-identifying a gambling problem, some of the key signs to look for include:
Gambling when you can't afford to
Feeling the need to be secretive about gambling
Having trouble controlling gambling habits or feeling that you can't stop
Compulsively trying to win back losses
Your friends and family express concern about your gambling
If you're concerned that someone you know may show signs of a gambling problem, experts say that the indicators can be a combination of financial, emotional or behavioural factors.
Talking to kids about gambling
Back to my son and his enquiry as to my favourite betting app. On the upside, it drew into focus how being exposed to gambling ads can infiltrate a child's mind. It also sparked a conversation about gambling and how to gamble responsibly that I'm glad we had.
I tried to explain that gambling isn't as common as the ads make it seem. Not everybody gambles, I said. And gambling isn't something you should do often. It can be addictive and people can lose a lot of money.
"Sounds like lollies," my son replied cryptically. "It's bad if you eat lots of sugar every day, but it's fine when it's a treat."
Exactly.
Free gambling support services in Australia
Gambling Help hotline (1800 858 858)
Wanting to know more about how to gamble responsibly?
Whether you're throwing your hat in the office sweepstakes or wagering money on the Melbourne Cup, take a moment to check your budget. If you're concerned about yourself or someone you know showing signs of a gambling problem, or wanting to learn more about how to gamble responsibly, then we're here to help.
Ready to find out more? Call 1300 300 922 to book your free budget consultation or enquire online.
Call 1300 300 922 or get started today
---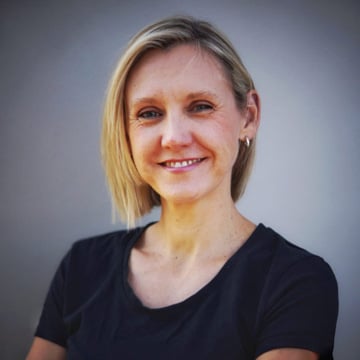 Kylie Hughes leads the content team at MyBudget, where she's been writing about money and budgeting for 10+ years. Before becoming a writer, she worked in merchant and personal financial services in Australia and the United States, and earned a masters degree in Communications along the way.
This article has been prepared for information purposes only, and does not constitute personal financial advice. The information has been prepared without taking into account your personal objectives, financial situation or needs. Before acting on any information in this article you should consider the appropriateness of the information having regard to your objectives, financial situation and needs.