How to encourage gratitude in the workplace
Have you ever worked for a boss who never said thanks? How did it make you feel? It turns out that humans have a basic need for appreciation and, not surprisingly, that gratitude is a better motivator than money. The importance of gratitude in the workplace can help boost office morale, creating a positive space for employees to come to week in, week out.
Gratitude can reframe your focus
A lot has been written about the science of gratitude. Harvard University says that "In positive psychology research, gratitude is strongly and consistently associated with greater happiness. Gratitude helps people feel more positive emotions, relish good experiences, improve their health, deal with adversity, and build strong relationships."
How does gratitude work? In essence, it works on the principle that where your focus goes your attention flows. By reframing your focus to the positiveーfrom lack to abundance, from absence to presence, from obstacles to opportunities, from failures to learnings, and so onーyou amplify your awareness of the goodness in your life.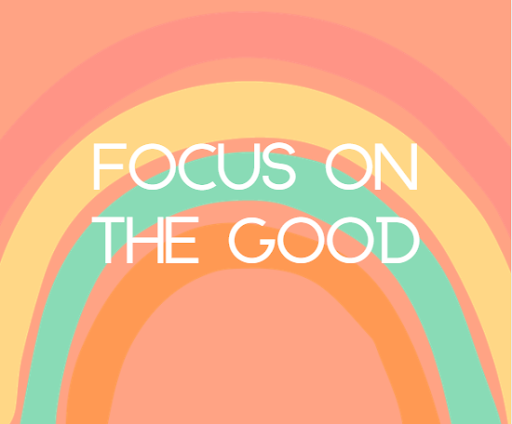 Gratitude amplifies in groups
Gratitude is not only powerful on a personal level. Delving into the research, it becomes clear that the positive effects of gratitude in the workplace can amplify in groups, producing what are called "prosocial behaviours." Prosocial means that members feel more empathetic and connected to each other.
The key effect of these stronger relationships is that group members are kinder to each other, including being less competitive, less aggressive and more open to feedback. As you can imagine, this sense of connection can be very motivating, especially in the workplace.
A survey of 2,000 Americans about their thoughts on gratitude found that:
81% said they'd be willing to work harder for an appreciative boss
70% said they'd feel better about themselves and their efforts if their boss thanked them more regularly
Yet despite this clear desire to receive gratitude, only 10% of respondents said they regularly express gratitude to their colleagues.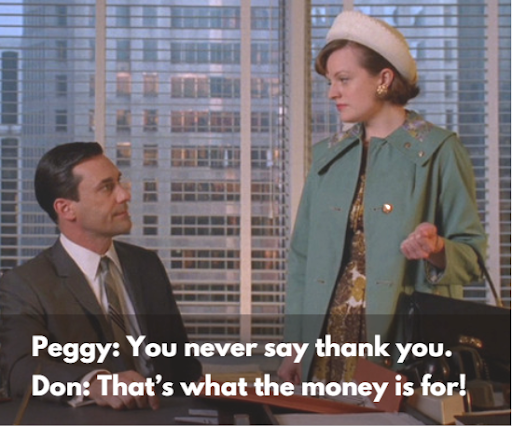 Why this disconnect between what we need to receive and what we give? Is it because workplaces are individualistic? Competitive? Do employers over-rely on compensation as a motivator? Do leaders need better training in how to say thanks?
Gratitude is a basic human need
Talking with Fast Company, psychologist and gratitude expert Professor Robert Emmons describes gratitude as "a basic human requirement" and "remedy for negativity." Without it, humans tend towards negativity—think: toxic competitiveness, gossipping, complaining, exploitation and entitlement.
We all know what it's like to work for a boss who doesn't say thanks. Not only is it demotivating (why do I bother?), it can lead to doubts and ambiguity (am I doing a good job?) and quickly escalate into job dissatisfaction, absenteeism, turnover and burnout.
Live your life
free
from money worries
Start today with a FREE no obligation appointment
On the flipside, working for an appreciative leader can be energising. It's almost an ineffable feeling that arises from a sense of safety and confidence. The work itself may be complex or challenging, but the environment makes it safe, rewarding and fun. That's when people do their best work.
Growing gratitude in the workplace
More importantly than ever, especially during a crisis like Covid when the world feels shaky and unpredictable, gratitude has the power to bring goodness into focus and to foster connection when so many feel physically and emotionally alone.
The question is how to practice authentic gratitude in the workplace. With that in mind, when our teams at MyBudget were able to return to the office after lockdown, one of our gratitude practices has been to grow a forest of gratitude trees.
As you can see below, there are no rules about who, why or what people can be thankful for: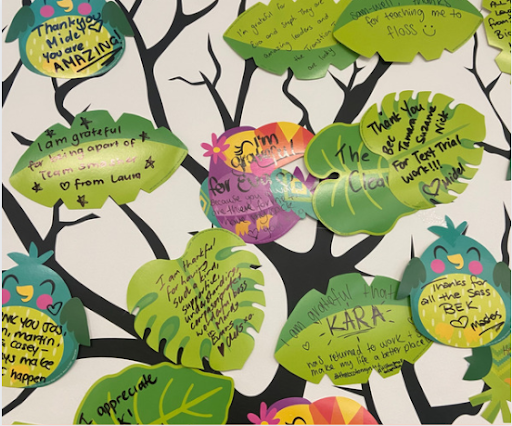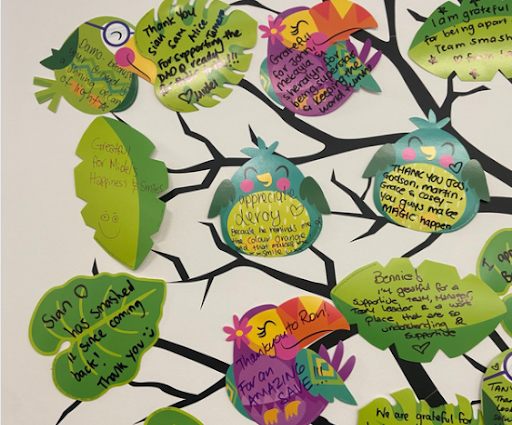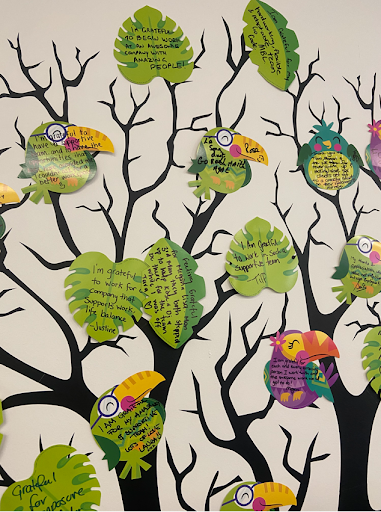 More ways to practice gratitude at work
Experts say that the best way to show appreciation is spontaneously and often, and to focus on performance rather than personal traits
In my first job ever, working as a casual at Hungry Jacks, I remember having a manager who made it a habit of saying thank you as we finished our shifts: "Thanks for taking the new person under your wing tonight;" "The cleaning job you did on the fridges was excellent," and so on. As well as feeling valued, it taught me which specific behaviours were the most helpful.
Gratitude in the workplace can be baked into company or team routines, such as service or sales champion awards
The challenge with awards is to find a balance between individual competition and group-oriented cooperation. One solution may be to offer team awards instead of individual recognition. At MyBudget, individual awards are always peer nominated.
MyBudget Chief Marketing Officer Danielle Puntureri practices gratitude with her team by starting the weekly marketing team meeting with a round of gratitude
I've sat in on some of those meetings and heard team members express thanks for anything from a cup of coffee a colleague bought for them, to their kids being back school after lockdown!
Official recognition is important, especially when important milestones are achieved
Does your company prepare annual reports or quarterly results presentations? If so, it's important to recognise those who were instrumental in team or company achievements. Without recognition, it's easy to lose energy and get unmotivated.
Celebrate birthdays, anniversaries and other special occasions
This former CEO of Campbell Soup sent more than 30,000 handwritten thank you notes to employees during his tenure. Handwritten notes might seem unnecessary in this digital age, but personal gestures still go a long way. This could be as simple as a birthday card.
Remember to thank the people behind your people
Behind the scenes, our people are juggling other responsibilities and commitments. This is why I make an effort to thank the people behind our people—the partners, children and other supporters who organise their lives around MyBudget's mission. Christmas cards, Christmas parties, picnics and so on, are all opportunities to extend thanks to our wider work community.
In some settings, gratitude in advance is powerful
In this study, a group of fundraisers were recruited then divided into two groups. One was delivered a speech by the director who expressed gratitude for the group's effort. The other group were given only job instructions. The result? The group who received thanks in advance made 50 percent more fundraising calls.
What about you? Do you have a gratitude practice in your personal life? How about your workplace? Please feel welcome to share your thoughts in the comments!
Call 1300 300 922 or get started today
This article has been prepared for information purposes only, and does not constitute personal financial advice. The information has been prepared without taking into account your personal objectives, financial situation or needs. Before acting on any information in this article you should consider the appropriateness of the information having regard to your objectives, financial situation and needs.