Budget-friendly school break fun recommended by parents
Ready to keep your kids entertained this school holidays? While there's no shortage of child-friendly activities to do, sometimes it can be hard to determine what's actually fun and most importantly, affordable. In this article, we'll share with you some ideas to try for budget-friendly school break activities recommended by parents, for parents.
Adelaide, SA
Adele, mum of Mitchell (aged 6) and Callan (aged 3)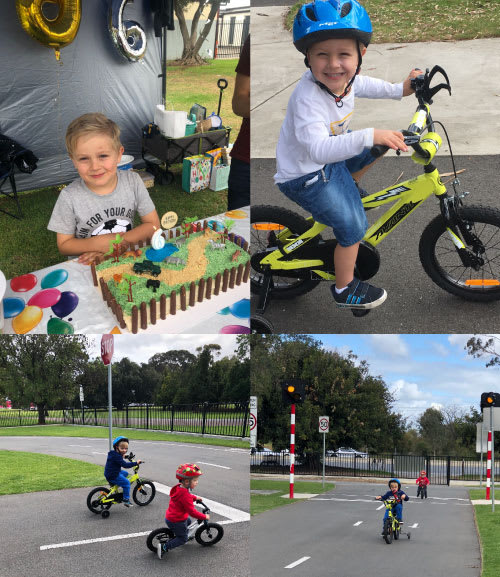 Mitchell loves going to the Road Safety Centre. When it came to planning for his birthday this year, we were happy to pay for a party anywhere Mitchell wanted to go, but he chose the Road Safety Centre, which is free to use!" says Adele.
Located at Thebarton Police Barracks on Port Road, the Road Safety Centre features a mock roadway that includes an intersection with traffic lights, pedestrian crossings, a roundabout, and traffic signs that help children become familiar with correct road signage, pedestrian safety, and general road rules. Available at designated times every day and ample parking available at Bonython Park, the facility is fully-fenced for the children's safety and is free for public use.
"I would absolutely recommend visiting this place for the school holidays. We sent out invites and asked the kids to bring their own scooters, bikes and helmets, and they didn't stop from the minute they got there. We didn't need any party games, as the kids were so busy making up their own games while riding their bikes, we only saw them when they came back around to us on the track!" Adele laughed.
Melbourne, VIC
Dean, dad of Phoebe (aged 16) and Hamish (aged 11)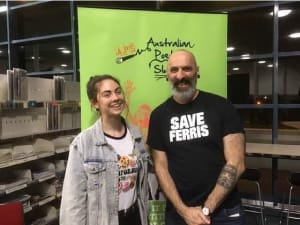 ​"My daughter Phoebe attended a 'Slam Poetry' workshop at the local library last year, which she loved," Dean recalls.
Does your child have a fire in their heart for spoken word and a burning passion to be heard? A perfect school holiday activity for budding wordsmiths in your family, slam poetry workshops are run by Australian Poetry Slam (APS) with support by the NSW Government. Held all around Australia, most workshops are free, while some have a minimal fee of $5-$10, depending on the venue.
"As for Hamish, he really enjoyed the 'Hot Arts for Cool Kids' workshops, and it was a super affordable school holiday activity for us. The participants could, pretty much, make anything they wanted!" says Dean. "Hamish made a wooden plane in his first workshop, and the second time he made a Play-Doh T-Rex and made a stop animation video with it."
Suitable for children aged 4-12 years and their families, Hot Arts for Cool Kids is a hands on, interactive, creative and diverse art and craft school holiday program. Run by Frankston Arts Centre, July school holiday workshops are already scheduled at a cost of $15 per child.
Mount Tamborine, QLD
Claire, mum of Sienna (aged 6) and Mason (aged 3)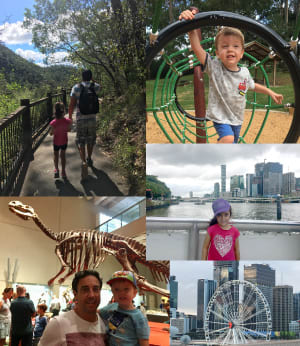 ​"Nature really is our playground up here in beautiful Mount Tamborine, which our kids love," Claire proclaims.
Claire suggests taking a family day trip to Tamborine Mountain where you can go for magical rainforest walks and visit Cedar Creek Falls. About a one-hour drive from Brisbane CBD, Cedar Creek Falls is one of Mount Tamborine's most popular tourist attractions with stunning views over the open canyon, waterfall and rock pools. The lovely scenery is "perfect for a picnic while your kids can burn some energy at Lions Park playground, and there's no entrance fee," says Claire.
For another low-cost school holiday activity this July, Claire will be taking her kids to the Broadwater Parklands at Southport. "We'll bring their scooters and bikes with us so it really doesn't cost us anything, but as a treat we'll get some ice cream or fish and chips while we're out." says Claire. "You can also check out the Brisbane Southbank parklands and man-made beach, go to the museum, have fun sightseeing on the Brisbane CityCat ferry rides, and look out for Groupon voucher discounts to go on The Wheel of Brisbane."
Live your life
free
from money worries
Create your own budget plan designed to help you live the life you want
Canberra, ACT
Ben, dad of Isobelle (aged 7) and Gryffyn (aged 4)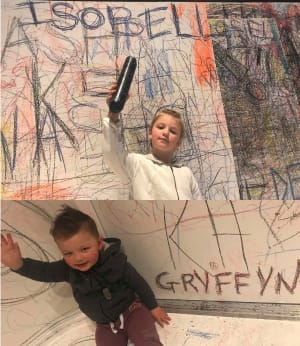 ​"We're really lucky in Canberra," says Ben, a father of two, who also has a baby on the way. "It's really focused on family and kids here, and not just during the holidays," he explains.
When it comes to finding engaging activities for their kids to do, tech-savvy Ben and his partner Jessica says that the Internet is their friend. "We follow our local malls and tourist spots on social media and often enter competitions, winning free tickets to shows and exhibitions for the kids, he says. Always on the hunt for a good deal, Ben says, "We'll regularly check various sites and apps like Groupon and purchase cheap cinema tickets, or passes to mini golf, ten pin bowling and indoor play centres. Most places also offer parents a free coffee with the kids' entry too."
For school holidays this July, Ben says he'll be checking out the malls first. "The large malls always have something free on during the holidays, including live performances and arts & crafts sessions. Last month, my kids saw Baby Shark in Concert twice and I got to sit and enjoy a cuppa. The kids are more than happy to go grocery shopping after that!" he laughs. Ben also suggests visiting local libraries, and immersing children in art and culture through the wide array of museums and galleries in Canberra. "They're really fun, with free entry and all have designated kids' areas. Usually, there's hands-on craft or science-type activities going on as well."
Perth, WA
Claire, mum of Ethan (aged 14), Jade (aged 9) and Ewan (aged 7)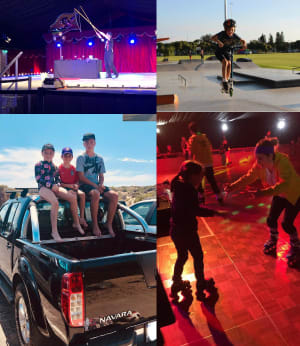 ​"We love that Perth City Council organises a lot of free activities every school holidays, all themed to what time of year it is," says mum of three, Claire. "The kids have been roller skating, seen Fringe-type shows, and so much more — all we had to do was book the free tickets online first," she elaborates. This July, why not check out Perth City's Snow Mall on Hay Street, Water Wildlife Closeup at Carillion City, and Winter Fest Theatre at Forrest Place, all of which are free of charge.
Claire says that there's plenty to do outside the city as well. "We go to local skate parks a lot. It's cheap and easy to chuck the kids' scooters and skateboards in the boot and take some food with us."
The city is also a short drive from many various stunning natural wonders and lively hubs of activity. Claire suggests taking day trips out with the family, which can be really budget-friendly. "We pack a picnic and go up for the day and the kids enjoy the nature break." Why not try out sandboarding the expansive sand dunes in Lancelin which is free entry, and visiting the Boranup Forest Maze in Margaret River at $5-$2 per entry (not to mention all the chocolate, cheese, fudge and ice cream factories there!).
It doesn't cost much to keep your kids entertained during school holidays, but you can also save up for a special surprise, like a family getaway interstate, or a visit to a theme park. Do you need help to build savings? Our caring personal budgeting experts at MyBudget can show you how to budget and save as a family. Call us today at 1300 300 922 or enquire online for a free consultation.
---
Banner photo: Sienna and Mason at Curtis Falls rainforest walk at Mount Tamborine, QLD. Photo by mum Claire.
All photos within this article are kindly provided by the respective people featured. Thank you!
This article has been prepared for information purposes only, and does not constitute personal financial advice. The information has been prepared without taking into account your personal objectives, financial situation or needs. Before acting on any information in this article you should consider the appropriateness of the information having regard to your objectives, financial situation and needs.